Sia Releases Yet Another Perfect, Inspirational Pop Anthem, "Unstoppable"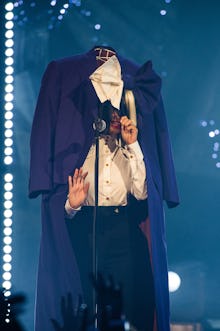 Every track Sia releases off her upcoming album This Is Acting proves one thing: She's got the inspirational pop anthem down to a perfect science. Her latest, "Unstoppable," the sixth track she's shared from the album thus far, is no different. 
Quiet, defiant verses build tension, which she then releases in sweeping, emotional choruses. "I'm so powerful," Sia sings. "I don't need batteries to play / I'm unstoppable / I'm a Porsche with no brakes." 
Consider it, the platonic ideal of a pop pump-up track.
The song is reminiscent of some of the finest Katy Perry or Rihanna chart-burners, which only makes sense, as Sia has written for both of those stars. She'll be including rejected songs from both artists on the new album: "Cheap Thrills" and the Kanye West-assisted "Reaper" were explicitly written with Rihanna in mind, as she shared with Rolling Stone in an interview published in December.
In that interview, the artist also shared that working with Katy Perry is damn near impossible. Sia describes her as "quite quite dominant, and she's extremely analytical."
"I actually quit within the first hour of our first session," Sia said. "I was like, 'Can we be friends if this doesn't work? Like our whole songwriting dynamic?'" Sia confirms they actually did get a song out of it.
Look out for Sia's This Is Acting, an album comprised mostly, if not entirely of A-lister rejected songs, next Friday, Jan. 29.