Wiz Khalifa Announces Tracklist, Release Date and Guest Artists for 'Khalifa'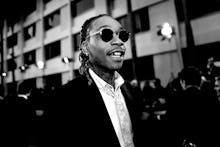 Christopher Polk/NBC/Getty Images
American recording artist Cameron Jibril Thomaz, aka Wiz Khalifa, has revealed details regarding his upcoming album, which is titled Khalifa. Complex reported that the album will be released on Feb. 5, a timeline that's been pushed back from its original Jan. 22 estimated arrival, and includes a number of collaborations, including one track featuring Travis Scott, born Jacques Webster. The collaboration track is called "Bake Sale," and the heavyweight rappers have released the song into the wild as a preview to Khalifa's sixth studio album.
According to the tracklist, the record boasts a number of collaborations with big-time recording artists in addition to Travis Scott, including feature tracks with Rico Love, Courtney Noelle, Sebastian, Ty Dolla Sign, Chevy Woods and Juicy J.
Read more:
Khalifa tracklist:
1. "BTS"
2. "Celebrate" (Feat. Rico Love)
3. "Elevated"
4. "City View" (Feat. Courtney Noelle)
5. "Cow Boy"
6. "Bake Sale" (Feat. Travis Scott)
7. "Call Waiting"
8. "Make A Play"
9. "Most Of Us"
10. "Zoney" (Feat. Sebastian)
11. "Lit" (Feat. Ty Dolla Sign)
12. "No Permission" (Feat. Chevy Woods)
13. "iSay" (Feat. Juicy J)
Khalifa, who has been on and off again with model Amber Rose, has said he derives inspiration from his personal life. "My whole objective was to make something that everybody can connect with," the recording artist told BET in April. "It feels personal, but it's something that everybody can feel too. It's not so personal that you're disconnected to it. Basically, that was my mind frame for it. Think about family in general. Not necessarily my family or someone else's family."
Khalifa's first studio album, Show and Prove, surfaced in 2006. The prolific artist has followed up that release with four more studio records, Deal or No Deal (2009), Rolling Papers (2011), O.N.I.F.C. (2012) and Blacc Hollywood (2014). Khalifa is a man of many talents, and has also appeared in a number of films, including Fast and Furious 6 (2013), 22 Jump Street (2014), Southpaw (2015) and Furious 7 (2015), according to his Internet Movie Database profile. 
Khalifa's body of recorded work has earned the artist notable recognition. At the 2015 Grammy Awards show, Khalifa was nominated for two distinctions — best rap album and best rap song — though the rapper didn't take home any hardware at last year's event. 
This year, the recording artist has been nominated for three Grammys, including song of the year, best pop duo/group performance and best song written for visual media. 
Head here for the full list of nominees at the 58th annual Grammy Awards.