Marc Jacobs' Latest Womenswear Model Is a "RuPaul's Drag Race" Queen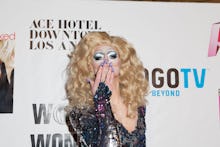 At first glance, Dan Donigan is a long-limbed, handsome man, but to RuPaul Drag Race viewers, he is simply Milk, a theatrical, gap-toothed drag queen from the show's sixth season who loved to play up the glitz factor with an over-lined lip. 
Although he came in ninth place on the show, Donigan made his mark by creating a cast of characters on the show that all had one characteristic in common: fearlessness. That's something that designer Marc Jacobs must have noticed.
For Jacobs' spring 2016 ad campaign, he's brought on Donigan to model a few of his signature pieces of womenswear, like a fringed sweater and a glittery pair of boots.
On Drag Race, Donigan enjoyed playing with androgyny, favoring a much flatter chest than his fellow competitors. That unique take on glamour is reflected in the new ad, which Jacobs shared on Instagram on Thursday. Donigan appears without a thick smear of pink lipstick or glitter, instead wearing smudged black eyeliner and a dark red lipstain. 
Of course, he still had that "wow" factor on Drag Race. As Donigan said in the caption to Jacobs' Instagram photo, there are "so many different outlets" for what drag can be. "It wasn't necessarily about female impersonation," he said. "It was about representing oneself in the most fabulous way, whether it be a Cher impersonator or throwing a shit ton of glitter on your face and dancing the night away in a basement!"
That's the attitude of Marc Jacobs' new campaign, which includes alongside Donigan's several other famous faces, like Lana Wachowski, a film director and trans activist. 
But really, this latest photo in the bunch is also a nice reminder of how much the drag world and "mainstream" style — both fashion and beauty — intersect with each other. In an era of contouring, dramatic lip-lining and fake eyelashes, we're all taking from the drag world more than we may realize. 
Now all we have to say is: 
h/t Dazed