Steven Avery's Attorney Kathleen Zellner Is Using Twitter to Defend His Innocence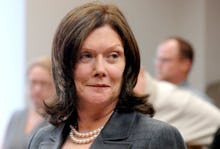 Don Shrubshell/AP
Kathleen Zellner, an Illinois attorney who announced in early January that she and her legal team would be taking on the case of Making a Murderer's Steven Avery, has been defending Avery's innocence on her personal Twitter, and it's attracting a lot of attention. 
Among Zellner's recent tweets supporting her new client are claims that Avery "remains innocent & framed" for the 2005 murder of Theresa Halbach, a crime for which Avery is serving life in prison. "Won't quit until he's out," Zellner announced to her followers.
Read more
Zellner specializes in overturning wrongful convictions: According to her firm's official website, "In 20 years, Kathleen T. Zellner has righted more wrongful convictions than any private attorney in America ... No private attorney in the United States has successfully fought for the release of more wrongfully convicted individuals."
Since taking on Avery as a client earlier this month, Zellner has been vocal in proclaiming his innocence, sending out a series of tweets criticizing the prosecution in his murder trial and maintaining that Avery was "framed."
Zellner also cited specific details of the case against Avery that she appears to believe were staged or planted.
Zellner's tweets about Avery's innocence have garnered hundreds of likes and retweets, but it remains to be seen whether public support will continue for the duration of what is sure to be a long legal battle as Zellner and her team prepare to fight for Avery's "wrongful conviction exoneration."
Avery, whose story was profiled in the Netflix documentary series Making a Murderer, spent 18 years in prison for sexual assault before being exonerated by DNA evidence. Avery's conviction was overturned and he was released in 2003. 
After being released from prison, Avery filed a civil suit against Manitowoc County — but the suit was later discontinued after Avery was accused of the 2005 murder of Theresa Halbach. In 2007, Avery was found guilty of Halbach's murder and sentenced to life in prison.
The release of Making a Murderer in December inspired support for Avery from many viewers who believed, after watching the docu-series, that Avery had once again been wrongfully convicted.