An ISIS Twitter Account Hijacked a Justin Bieber Hashtag to Troll His Teenage Fans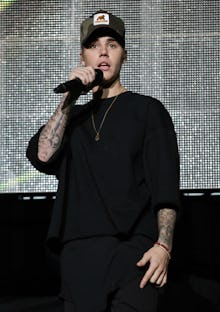 Well, that's one way to appeal to teenagers.
According to a report from the Australian Associated Press, a purported Islamic State group Twitter account attempted to use the hashtag #JustinBieber to get more eyeballs — impressionable, teenage eyeballs — on its propaganda video. 
As of Friday morning, the Twitter account @ISMedia_29 had been suspended, though it could pick back up again on the live but inactive @ISMedia_30 and @ISMedia_31. 
The linked YouTube video has been removed because it violated the platform's terms of service; the Sendvid links are down as well. The AAP got a look at the video before it was taken down, however, and reported that it was "professionally produced" and included scenes from the executions of four men, a suicide bombing and calls for new recruits. 
As of Friday, the Twitter account has only been active for about 24 hours. It's full of tweets that include the hashtags #ISIS, #ISIL, #IslamicState and #IS, but also includes other, more random hashtags, like #Facebook and #Bollywood. Many of them include links to video and audio footage as well as outside webpages. 
The #JustinBieber tweet was liked by two Justin Bieber-related accounts, and retweeted by one. (Neither is officially associated with the Canadian singer.)
The Twitter search results for #ISIS and #JustinBieber are a minefield of memes and viral videos. It's hard to tell if trolling Bieber fans is a full-on trend in terrorist Twitter, but according to the AAP, the video was titled "Message to Islamic West," which might help explain the bizarre Biebs connection. 
It's not the first time the two have been used in the same sentence, though previous linkages were a tad more benign. One viral video, for example, explained why Canadians shouldn't conflate all Muslims with the Islamic State group, because by the same logic, that means all Canadians are just like Justin Bieber.
The terrorist group's social media strategy has been well documented. It uses social media platforms to, among other things, recruit new members, "[cultivating] them at home in the U.S., Europe, Africa and Asia," as Popular Science reported. It also uses them to spread imagery of violence and killings, including video footage of James Foley's beheading in 2014.
It's unclear how many Beliebers saw the tweet, but given how active the #JustinBieber hashtag is, it's not unlikely that at least a few people stumbled across it. Bieber himself hasn't commented, though he may be too busy at the moment.
h/t Australian Associated Press