Man Sends a Big Screw You to Donald Trump From Beyond the Grave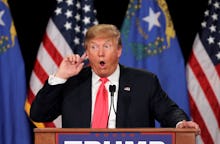 It would be rude not to respect a man's last dying wish, right?
When Pittsburgh resident Jeffrey Cohen died, he gave those he left behind a concrete way to honor his memory — and make sure he isn't rolling over in his grave. "In lieu of flowers," his obituary in the Pittsburgh Post-Gazette read, "do not vote for Donald Trump."
Cohen, 70, died suddenly in his childhood home on Sunday. He was known as a "Chiropractor for the Stars," according to the obituary, and treated Liza Minelli, Fred Rogers and "Weird Al" Yankovich, as well as local celebrities from the symphony and ballet in Pittsburgh. 
Always the jokester, Cohen opened his private business on April Fools' Day, and prided himself on being the "only Jewish cowboy that he knew of," the obituary said, referring to the summers he spent on a Montana ranch "shovel[ing] more horse manure than you've ever seen in your life."
Cohen's obituary also mentioned that donations to the Nimmo Educational Foundation, an organization that helps people dealing with chronic pain, will also do. But in the obituary's comment section, people from across the country promised to heed Cohen's call from beyond to not vote for Trump. 
"A good man and a life well-lived," wrote one commenter. "His family can be proud and take comfort in what must be many memories of happy times together."
Some assured Cohen they already had another candidate in mind. "I have very much enjoyed his short biography," wrote another user. "I will most definitely grant Dr. Cohen's wish. I'm voting for Bernie Sanders."
Cohen isn't the first to use his obituary to make a political statement. In August, New Jersey woman Elaine Fydrych's obituary read, "In lieu of flowers, please do not vote for Hillary Clinton." Earlier this month, the end of Virginian Ernest Overbey's  obituary asked his friends and family to vote for Trump. The candidate tweeted out the obit, writing, "Thank you so much. Earnest [sic] must have been a great person."
For Cohen's sake — wherever he is now — hopefully everyone is a Democrat.