People Are Searching for Snowstorm Cuddle Buddies on Hinge and Craigslist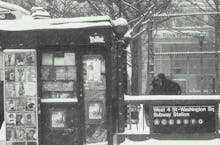 If impending Winter Storm Jonas had the gift of speech and asked single people the above question (preferably in an Austin Powers-inspired accent), many of them would likely respond with a resounding "yes."
At least that's what new data from Hinge suggests. According to the dating app, we're in for quite the "Dating Storm" this weekend. User activity is expected to go through the roof, likely because people want to use being snowed in as an opportunity to boinky-boinky for 48 hours straight.
In an email sent to Mic, Hinge wrote that the company is making the prediction based on data from last year's Winter Storm Juno. "Last year, during snow storm Juno, there were twice as many two-way conversations across the east coast when compared to a typical day," a rep from Hinge wrote.
Leading up to the storm, Hinge said, there was a "24% increase in phone numbers exchanged," along with a "58% increase in two-way conversations," indicating a bell curve-like spike in usage based around the event. 
Once the storm hit, these numbers climaxed (lol), to a 56% increase in phone number exchanges and 96% increase in two-way conversations.
Of course, not everyone on Hinge is there for casual sex. The app — which has always branded itself as more relationship-oriented than, say, Tinder — said its users tend to seek out serious relationships more frequently during the winter months overall, likely due to the phenomenon of cuffing season, in which people long for a steady bae until the cold subsides. 
For more concrete evidence that Winter Storm Jonas is already setting horny peoples' libidos aflame, one must look no further than the "casual encounters" section of Craigslist (if one dares). A quick search for "snow storm" in the New York City area, for instance, pulls up myriad NSFW results:
Let us read some!
"We're looking for two or three very good looking couples and bi women," writes one adventurous couple in Manhattan, "for a snow-in party in a West Village loft with an HD projector, wine, cheese, charcuterie, great music system and significant sex equipment (bondage bench, suspension setup with sex swing)."
Others are less heavy on the participants and amenities (wine, cheese, charcuterie? Yes, please — we can skip the sex!) and seek more traditional arrangements.
"With the big snow storm this weekend, I'm looking for a girl to come over and have some fun with," says one 25-year-old white dude who is 5 feet, 10 inches and (allegedly) well-hung. "Going out will be a challenge so let's keep each other company."
Others are planning to cheat on their partners, because love is dead.
"We all know there's supposed to be snow storm this weekend so in trying to make the best of it," one woman wrote. "Boyfriend works for the city so he'll be busy all weekend. Looking for another guy to 'fill his place' and keep me company either tonight or tomorrow night ... I love to give head and eat ass so unless you're willing to have your legs in the air or on all fours with my tongue fucking you, don't bother responding."
There are so, so many more, but that whole "don't bother responding unless you're willing to have your ass eaten while on all fours" line seems like a good place to wrap up. As long as the heat is on and no one gets frostbite, sounds like some fine holiday fun! Happy snowstorm.