Blizzard 2016: East Coast Snowstorm Path, Forecast, Snow Total Predictions and More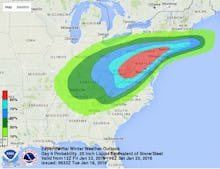 With a winter storm, dubbed Jonas by the Weather Channel, bearing down on the Northeast this weekend and snowfall expected from late Friday night into Sunday, residents of cities all along the Eastern Seaboard are preparing for what weather experts have said could be a devastating storm.
The latest reports from AccuWeather.com show the storm moving up the coast, from "northern Virginia to southwestern Connecticut." Snowfall will be heaviest between Baltimore and Philadelphia, which will experience blizzard conditions and "snowfall averaging 12-24 inches," according to AccuWeather.com.
New York City and its surrounding metro area may also be hit hard: AccuWeather.com predicts NYC will get up to 12 inches and experience "blizzard conditions at times."
Cities on the edge of the storm will experience less snow, but Jonas will still likely impact travel up through New England. Boston may get "up to a few inches" of snowfall.
Cities are already responding to the impending storm. A blizzard warning has been issued for the Washington, D.C., area starting Friday at 3 p.m. EST through Sunday 6 a.m. EST, and the city's Metro will close at 11 p.m. EST Friday and stay closed at least until Sunday.
New York City mayor Bill De Blasio warned New Yorkers to take precautions when traveling in the snow and to stay off the streets if possible.