Map of Snowstorm on East Coast — Here's Which States #Blizzard2016 Will Affect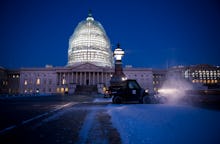 Bill Clark/Getty Images
As the likely "historic" Winter Storm Jonas, as it's been named by the Weather Channel, travels north along the East Coast Friday through Sunday, slamming several mid-Atlantic and Northeastern states along the way, it'll leave several feet of snow in some areas and just a few inches in others. Here's where the snowstorm is headed and which states it's expected to hit. 
The storm sparked a viral #Blizzard2016 hashtag on Twitter, but the technical conditions of a blizzard are 35mph or stronger winds and less than a quarter mile visibility for at least three hours, according to the National Weather Service. Only a few states will experience those harsh conditions. Nonetheless, the storm will likely bring snow, wind and dangerous conditions to much of the East Coast through the weekend.
Here's a full list of states in the storm's path, according to the National Weather Service's radar, and what they can expect from Jonas:
North Carolina: The storm arrived in North Carolina Friday morning in the form of snow, sleet, and freezing rain, TWC News for central North Carolina reported. While Jonas is expected to just skim North Carolina, there's still a 30 to 40% chance some eastern North Carolina towns will get a foot of snow. "Heavy snow" is likely for northern North Carolina Saturday, TWC reported, but winter storm conditions should otherwise dwindle by mid-weekend.
Kentucky: Jonas hit southeast Kentucky Friday and will head to the state's northern region as the storm tracks north throughout the day. The Lexington region should expect between 10 to 18 inches of snow, local station WKYT reported.
Virginia: Virginia will experience the brunt of Jonas Friday morning through the afternoon, leaving at least a few inches of snow, local station WTVR reported. The snow should transform to rain by Friday night. Eastern Virginia should experience the harshest conditions in the state. 
West Virginia: Most of West Virginia has an 80% chance of getting a foot of snow starting Friday, while some areas in the state may get up to 20 inches, the Weather Channel reports.
Washington D.C.: Jonas may hit D.C. hardest as several feet of snow and life-threatening conditions are expected Friday through Saturday. The Washington Metro will close Friday at 11 p.m. EST and resume Sunday. A state of emergency has been issued. 
Delaware: Though adjacent to D.C., Delaware shouldn't expect as brutal a storm. Some areas in western Delaware have a 50% chance of getting a foot of snowfall while east Delaware has a 20-30% chance, according to the National Weather Service. A Google public alert showed a winter storm warning for Delaware predicts 4 to 8 inches of snow accumulation over the weekend.
Maryland: The storm is expected to hit Maryland hard Friday afternoon as a blizzard warning is set to go into effect, WJZ Eyewitness New reported. "Our state is taking every precaution – coordinating all available resources – to prepare to clear roads, manage incidents, and recover from this storm," Gov. Larry Hogan told CBS. "We urge all Marylanders to take action now to prepare, before this severe weather strikes, with the knowledge that our state will do everything it can to respond quickly, effectively and efficiently to this major storm event."
Ohio: The outskirts of the winter storm will pass through central and eastern Ohio, but it shouldn't expect more than a few inches of snow. "Forecasters now are saying central Ohio likely will be spared any heavy snowfall," the Columbia Dispatch reported. 
Pennsylvania: Pennsylvania Gov. Tom Wolf declared a state of emergency Thursday in anticipation of heavy snowfall throughout the weekend, Penn Live reported. Pennsylvania won't experience the worst of the storm, the National Weather Service reported, but some eastern areas could see up to a foot of snow at maximum potential. 
New York/New Jersey: A blizzard warning is in effect for New Jersey and southern New York, including New York City, from Saturday 4 a.m. EST through Sunday morning, according to Google public alerts. The forecast shows 7 to 12 inches of snow accumulation for parts of the states and winds up to 35 mph with gusts up to 50 mph. 
Massachusetts/Connecticut/Rhode Island: Being that New England is located on the storm's tail end, it's expected to experience relatively mild effects of the storm. Still, it's possible that some areas will get hit with over six inches of snow, Mass Live reported. A winter storm watch is in effect for Connecticut regions including New Haven, New London, Fairfield and Middlesex starting Saturday, Fox 61 reported. Forecasts seem confident that snowfall accumulation will be less than the Mid-Atlantic at maximum potential, but strong winds and minor coastal flooding are expected.