This Girl Turned Sexts From a Frat Bro Into a Musical Masterpiece — And It's Glorious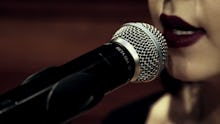 Have you ever received an incredibly vulgar sext and thought to yourself, "Gosh, these lines really ought to be set to the tune of a fiery torch song"?
If so, then we have a Friday treat for you!
One college student in Nashville has taken the raunchy ramblings of a hungover (and v. horny) frat bro and turned them into a timeless masterpiece of song that will make you either LOL or say a prayer for the future of America, depending on how you feel about such delightful pickup lines as "greet me with your mouth wide open" and "you're gonna inhale my dick."
The song is called "Texts From a Beta" — for Beta Theta Pi at Vanderbilt University — and its YouTube description says that the lyrics were all pulled from "real, word-for-word consensual texts sent to a young woman by frat guys."
In some of the song's other standout lyrics, the anonymous frat boys' texts include gems like "There's gonna be a party in your ass tomorrow and my cock's the only one that's invited" and "I'm nutting on your face." Elsewhere in the lyrics, there is a request for a rim job and about 11,000 more references to oral sex: "I just puked; If I can't move, can you just suck my dick good?"
According to the tipster who submitted the song to Total Frat Move, the texts were all sent to the wrong recipient, who's studying music at Vanderbilt. This may explain why she was less like, "OMG OK, I'm coming over now," and more like, "Hmm, I think I'll give this X-rated soliloquy the Adele treatment." (Mic reached out the song's creator for further comment and will update if we hear back.)
Either way, the song's horny protagonist ultimately seems to have been brutally rebuffed, as the climactic bridge sees him throwing out classic fuckboy responses to rejection such as "Your loss" and "If I flew the coop every time a chick begged me to walk over and pound her in the ass instead of doing my homework, I'd fail out of school."
But whatever the song's true origin story is, one thing is worth mentioning: Musically, it's kinda good! The melodies are haunting, the vocal performance is impassioned and the production value exceeds the expectations one might have of a song that features the phrase "I pack heat and hang dong."
"Texts From a Beta" for Record of the Year.
h/t Total Frat Move