This Is a Twitter Roundup of People Hating Macklemore's "White Privilege II"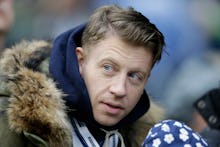 John Froschauer/AP
Seattle-bred recording artist Ben "Macklemore" Haggerty is gearing up to release his sophomore studio album, This Unruly Mess I've Made, with longtime collaborator Ryan Lewis, an effort that will arrive on Feb. 26. Ahead of the long-awaited LP, the "Thrift Shop" singer debuted a track on Thursday titled "White Privilege II," and the song has sparked a ruckus of a response on Twitter from many of those who've heard it.
Read more:
The song, which was recorded with Lewis, also features Chicago's own singer/poet Jamila Woods. The nearly nine-minute-long track was shared online alongside a mission statement of sorts. After hearing the song, users on Twitter had some opinions, ranging from accusations of Macklemore using his "white guilt" to sell tracks to simply "trash."
Yet not all those who reacted to the song were critical. 
The song is the follow-up to "White Privilege," which the artist released in on 2005's The Language of My World. "This song is the outcome of an ongoing dialogue with musicians, activists, and teachers within our community in Seattle and beyond," reads a statement published along with the track. "Their work and engagement was essential to the creative process."
In the statement published with Macklemore's latest song, the artist explains that "White Privilege II" is the product of an ongoing discourse with black-led organizations such as Black Lives Matter, People's Institute for Survival and Beyond, Youth Undoing Institutional Racism & Freedom School and Black Youth Project 100. 
"In dialogue with our community partners and advisers, we will continue to find ways in which we can leverage our platform and network towards strengthening the work of organizers and initiatives framed by genuine racial and social equity," reads the statement. "We recognize that there are no easy answers, any one piece of legislation, or quick fix to undo institutional racism in our country. We wish to support direct organizing and be led by the expertise and experience of those on the front lines as we proceed."
Thursday's release comes at an inflection point for the artist, who has been vocal about the high degree of doubt, apprehension and interpersonal turmoil he faced in recording his sophomore LP. Unfortunately for Macklemore, considering the visceral reaction to his most recent release, it doesn't appear that public scrutiny will lessen in the near term.