Study: Young Americans Less Concerned with Strengthening Military, Immigration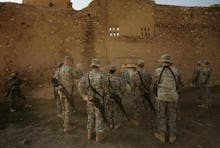 Although the membership of the U.S. active-duty fighting force is overwhelmingly under 40, a new Pew Research Center study finds young people are least likely to call strengthening the military a priority.
The study released Friday found only 28% of Americans ages 18 to 29 think bolstering the power of the armed services should be a top issue for President Barack Obama and Congress.
The figure rose dramatically — to 47% — among Pew respondents between the ages of 30 and 49. Fifty-four percent of those ages 50 to 64 considered strengthening the military a high priority, topping out at 68% of those 65 and older who felt that way:
According to figures compiled by Statistic Brain Research Institute, the average age of those on active duty in the Army and Navy is 29. The average member of the Air Force and Coast Guard is 30, and the average Marine is the youngest at 25.
Younger Americans lean toward keeping a Democrat in the White House, although there is evidence to back up millennials' reputation for having an independent streak. 
Pew also found a widening partisan gap when it comes to how Democrats and Republicans feel about a stronger military.
In the first year of the George W. Bush administration, Democrats and Republicans were much closer on the issue: 45% of Democrats and 63% of their GOP counterparts called the military a top-shelf issue. Heading into the final year of the Obama presidency, a substantially higher 76% of Republicans identify greater military strength as a high priority, compared to just 33% of Democrats.
What's hot and what's not? For all the political firefighting over the issue during the 2016 presidential cycle, "The youngest adults also lag behind on the priority they give to addressing the issue of immigration: 38% of those under 30 call this a top priority compared with about half or more of adults 30 and older," Pew found.
What younger Americans do care about — a lot — is better schools.
A sky-high "72% of those 18 to 29 and those 30 to 49 say improving the educational system should be a top priority for the country," Pew reported, "compared with 64% of those 50 to 64 and 53% of those 65 and older."
Conversely, 82% of Americans 65 and older called stabilizing the Social Security system critical, and, unsurprisingly, older Americans were likelier to be worried about Medicare.
Pew also found younger adults less concerned about crime control and reforming the tax system.
Yes, there is convergence: There are points of generational commonality, however.
Terrorism is the big issue across age groups, Pew found. Just as a crisis can pull together members of disparate groups, the study found those under age 50 just 11% less likely than those over 50 to say addressing terror is a major priority — 70% to 81%.
Across generations, Pew also found respondents of all ages reasonably close in their prioritization of dealing with gun policy, global trade issues and the economy.
Finally, maybe there is something to be said, or shown, for cross-generational optimism — at least among liberal Democrats looking at the wind-down of Obama's tenure.
The youngest left-leaning Pew respondents, those aged 18 to 29, demonstrated a 14% rise from November 2014 to the present day in their belief Obama will accomplish at least some of his agenda before he takes off. 
Only people between 50 and 64 beat them on the enthusiasm scale during the same stretch of time: Half, up from 32%, told Pew they think Obama will make good on his promises before he signs off.