Actress Charlotte Rampling Says the Backlash Against Oscars Is "Racist to Whites"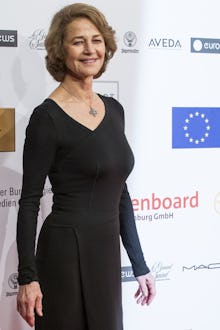 Anadolu Agency/Getty Images
The news that, for the second year in a row, the Academy of Motion Picture Arts and Sciences did not nominate a single actor of color for an Oscar, inspired widespread criticism — but some movie stars, it turns out, don't have a problem with the lack of representation among this year's nominees. On Friday morning, actress Charlotte Rampling said that a boycott of the Oscars is "racist to whites," while speaking about the subject on a French radio program. Rampling was nominated for an Academy Award this year for her performance in 45 Years.
"One can never really know, but perhaps the black actors did not deserve to make the final list," Rampling said on Friday. In response to a question about whether or not the Academy should put in place quotas to ensure diversity among the nominees, Rampling answered, "Why classify people? These days everyone is more or less accepted ... People will always say: 'Him, he's less handsome'; 'Him, he's too black'; 'He is too white' ... But do we have to take from this that there should be lots of minorities everywhere?" reported The Guardian, which translated Rampling's comments from the original French.
Within hours of the initial announcement of the nominees earlier this month, the hashtag #OscarsSoWhite was trending on Twitter, and many entertainment industry insiders have joined those criticizing the lack of diversity among this year's nominees, including Mark Ruffalo, George Clooney and Spike Lee. Jada Pinkett Smith and Will Smith are boycotting this year's ceremony.
But Rampling isn't the only actor to brush off the lack of diversity among the 2016 Oscar nominees: Speaking on the subject in an interview with BBC Radio 4 on Friday, actor Michael Caine also defended the absence of people of color, saying, "You can't vote for an actor because he's black. You can't just say, 'I'm going to vote for him. He's not very good, but he's black. I'll vote for him.' You have to give a good performance."
Despite his statements, the 82-year-old Inception star, who has been nominated for six Academy Awards and won two, seemed surprised that Idris Elba had not received an Oscar nomination for his performance in 2015's Beasts of No Nation. "I thought he was wonderful, I thought he would get — did he not get nominated?" Caine asked his interviewer, the BBC's Nick Robinson.
"No, no," Robinson answered.
Caine went on to say that he would not be attending the 2016 Oscars, not for ideological reasons, but because he's "too old to travel that far to sit in an audience and clap for someone else."