"White Privilege II" Lyrics: Macklemore's New Song Stirs Controversy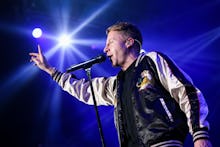 John Salangsang/AP
Macklemore dropped "White Privilege II" Thursday, a marathon eight-minute think-piece song about the Black Lives Matter movement from the perspective of a white rapper on the outside looking in. The slam-poetry like lyrics for "White Privilege II" rattle off the rapper's conundrums about cultural appropriation with his music and whether or not — more specifically, how — he should take part in the fight for equality. More specifically, the lyrics include a recount of his experience marching in Ferguson, an apparent Iggy Azalea diss and a lot about cultural appropriation.
Ferguson march: The rapper starts off recounting his experience marching with Black Lives Matter activists in Ferguson after unarmed black teenager Michael Brown was shot dead by a police officer. "I want to take a stance cause we are not free," the lyrics go. "And then I thought about it, we are not we/ Am I in the outside looking in, or am I in the inside looking out?/ Is it my place to give my two cents/ Or should I stand on the side and shut my mouth for justice?"
Iggy Azalea diss: Naming other artists who culturally appropriate in the second verse, he goes off on Iggy Azalea's "fascist and backwards" music. "You've exploited and stolen the music, the moment The magic, the passion, the fashion, you toy with/ The culture was never yours to make better/ You're Miley, you're Elvis, you're Iggy Azalea," he rattled off. "Fake and so plastic, you've heisted the magic/ You've taken the drums and the accent you rapped in/ You're branded hip-hop, it's so fascist and backwards."
Azalea has already responded, essentially calling Macklemore fake and assuring Twitter she doesn't care what he said about her:
Cultural appropriation: "We want to dress like, walk like, talk like, dance like, yet we just stand by/ We take all we want from black culture/ But will we show up for black lives?" Macklemore raps in the fourth and last verse before Jamila Woods, best known for her hook in Donnie Trumpet and the Social Experiment's Sunday Candy, caps off the song repeating "Your silence is a luxury, hip-hop is not a luxury."
The song's full lyrics are available on Genius. 
Macklemore opened himself to criticism by taking on a controversial topic in an unorthodox way, so naturally, people went off on Twitter. "Lmao you're so desperate to stay relevant," one user tweeted. "Lmao stop making music," another user suggested.