'Portlandia' Season 6 Premiere: Recap and How to Watch First Episode "Pickathon"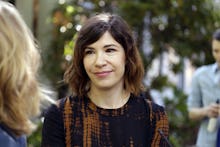 Don Ryan/AP
Much-loved sketch comedy series Portlandia, which was created by comedic actors Fred Armisen and Carrie Brownstein, in collaboration with writer and director Jonathan Krisel, has returned for its sixth season. The series kicked off on Thursday with Episode 1, "Pickathon," which features fresh bits from the dynamic duo and guest appearances from Alia Shawkat and Kyle MacLachlan. Viewers can watch the first episode of the series here (sign in required). 
"The Flaming Lips headline Portland's Pickathon Music Festival," reads the episode's explainer. "Brendan and Michelle attend the festival via drone. Two concertgoers go boy-crazy."
Now in its sixth year, the Emmy-nominated show has built something of a cult following since its 2011 debut. During season six, the creators have deliberately breathed a bit of realism, or surrealism, into the series. In episode 0, which was a teaser of sorts that preceded the first episode, one of Armisen's characters wakes up one morning to find that his hair has gone completely gray. Over coffee with Brownstein, Armisen struggles to make peace with the loss of his youth in a classic, yet somehow hilarious, intrapersonal face-off with aging and humanity. Episode two of Portlandia's sixth season is also titled "Going Gray."
Read more:
Of course, the series isn't taking a truly dark turn according to Brownstein, who, in a recent interview with Salon, said she and the show's creators were simply trying to weave some heavier themes into the show's comedic tapestry.
"We try to balance some darker subject matter with the absurdism of the show," Brownstein told Salon. "And we weren't going to completely eschew that just so that we could lecture people about mortality, you know? We're not trying to be didactic or pedantic, we're kind of just trying to explore our own sense of disbelief that everyone has — as they kind of look around themselves, and realize the ways that they moved away from all the things we assumed we would embrace forever."
Speaking to Split Sider, Armisen echoed a similar sentiment and said that in writing Season 6, the creators were mindful of bringing new angles to the forefront of each episode. 
"For this season of Portlandia we sort of intended to do a very different kind of season," Armisen told Split Sider. "We even said it out loud in the writers' room, like 'we've already made what we wanted to make, so this time around, let's do something that feels like a completely different kind of season.'" 
Yet one thing's apparent after the premiere of Season 6's first episode — the two haven't strayed too far from the kinds of early sketches that won fans over in the first place. As a reminder of the show's singular humor, here's a sketch called "Is the chicken local?" Years later, it's just as good.