'Blackish' Is Proof That Black Lives Matter Has Arrived on Network TV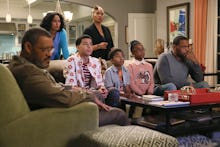 Wednesday's episode of Black-ish opened as almost all episodes of the ABC comedy do: Dre Johnson (Anthony Anderson) delivers a monologue, this time on the power of the media and the treacherous terrain of parenting in the age of screens. As Dre speaks, horrific historic images flash by, ending with a picture of slain teen Trayvon Martin. 
When we first see the Johnsons, they are gathered around a television, the children attempting to comprehend the disaster playing out on screen: Protesters are taking to the streets to demand justice for an unarmed black man who had been killed by police.
"Why are these people so mad?" the youngest, Jack (Miles Brown), asks.
"The police are damn thugs," Pops, (Laurence Fishburne), said. 
What follows is a tight, emotional — never schmaltzy — half-hour of television in which we watch a black American family attempt to make sense of police brutality in America. They wrestle with indictments, riots and the role of police. They shout out Ta-Nehisi Coates, James Baldwin and Malcolm X. They disagree on how to address something that's happening all too often in America. 
Black-ish depicted a reality that many black families have faced in the past few years. They've had to cope with the onslaught of images of violence against black bodies while also interpreting that violence for young children. The episode, titled "Hope," was not just a dichotomy between young and old, as the older generations try to interpret the events for the family's youngest members. But the parents also discuss their dueling perceptions of the police, with Rainbow (Tracee Ellis Ross) viewing them as mostly helpful. Dre calls the situation a "gray area." 
"Charcoal gray," Ruby (Jenifer Lewis), Dre's mother, says. 
"Basically black," Pops says. 
Later, Ruby tells the children that there are only seven words they should ever say to the police: "No, sir," "Yes, sir," and "Thank you, sir." 
How many white families have had to have this conversation? 
Black-ish is not the only show bringing issues of police brutality front and center to network television. Perhaps the most audacious Black History Month in years began with Beyoncé releasing the video for her new single "Formation" on YouTube and then performing it about 30 hours later at the Super Bowl.
That Beyoncé's Black Panther-styled dancers caused an uproar — and a failed protest — reflects a larger truth: that a large part of white America is never ready to discuss police brutality in a real way. However, Black-ish showed that black families can't escape conversations about police brutality, the criminal justice system and the consequences of having black skin. 
Another network show is tackling these issues, too. NBC's Shades of Blue is exploring the insidious bureaucracy that is being a police officer. 
The opening scene in Shades' pilot episode pulls no punches: A distraught Harlee Santos (Jennifer Lopez) records a video diary, wondering how she became a corrupt cop. Then, after her first-day-on-the-job partner accidentally shoots a black man who is playing with his Xbox, Santos works to cover up the crime. She concocts a story with the newbie to cover both of their tracks. The entire series is a rumination on how bureaucracy can cover up the truth — and create other truths. 
Both Black-ish and Shades are primetime series that in some way have dealt with how the truth is constructed in relation to law enforcement. The characters on Black-ish want to warn their children about the police while teaching them to respect authority. The characters on Shades want to be good cops and stand for justice, but know that they are part of a corrupt system. 
And then there are the viewers, who are inviting these characters into their living rooms. As these characters wrestle with questions regarding police brutality and the justice system, so must we. We have to care about the Black-ish family, who end their episode by joining a protest. And, while Santos is a crooked cop, Shades wants us to spend time with her, to sympathize with a woman who, at the core, really wants to be a good cop and a good mother. 
Viewers can't help but walk away with the feeling that the central institutions that these shows address — police brutality, racism and the justice system — exist in a gray area. A charcoal gray area. Basically black.