Viola Davis and Reese Witherspoon Are the Latest Celebs to Weigh In on #OscarsSoWhite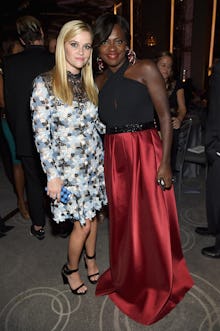 With a growing number of celebrities weighing in on the #OscarsSoWhite controversy, including Oscar-winning actress Lupita Nyong'o and Jada Pinkett Smith, those who are calling for greater diversity in the academy and Hollywood at large have two new allies: Oscar-winning actress Reese Witherspoon and Oscar-nominated actress Viola Davis have both made statements about Hollywood's highest award. 
In an interview with Entertainment Tonight, Davis shared what she felt was the real problem behind the Oscars' all-white acting nominee slate: Hollywood. 
"How many black films are being produced every year?" Davis said to ET. "The problem is not with the Oscars. The problem is with the Hollywood movie-making system." 
On Thursday afternoon Witherspoon posted a Time article to her Facebook page about the Oscars' lack of diversity. Witherspoon said she was "so disappointed that some of 2015's best films, filmmakers and performances were not recognized." 
"Nothing can diminish the quality of their work," she added, "but these filmmakers deserve recognition. As an academy member, I would love to see more diverse voting membership." 
Since the Oscars announced its slate of all-white acting nominees for the second year in a row, some have called for a boycott of the ceremony, including Pinkett Smith, and actor Mark Ruffalo is considering it. Others have called for Oscar host Chris Rock to step down from his duties. 
Regardless, here's hoping the academy can find some way to address this problem before it becomes history.