A Spanish Soccer Referee Asked a Female Player Out in the Middle of a Game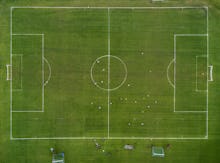 Sometimes referees make bad calls, but this is one of the worst.
On Sunday, referee Santiago Quijada Alcón allegedly asked Romanian soccer player Elena Pavel if she wanted to get coffee during a first-division match between Pavel's team, the Sporting Huelva, and Saint Teresa in Spain. 
According to Marca, a Spanish sports newspaper, Quijada Alcón said to Pavel, "Morena, esta tarde me tomaría un café contigo," which roughly translates to "Brown hair, let's go out for coffee." ("Morena," which literally means "brunette" or "dark-skinned woman," can translate a number of ways in different cultures.)
The New York Daily News reported that Pavel told Quijada Alcón to get back to refereeing the game. Later, Pavel said she wouldn't be filing a report or a complaint because it was "her word against his," according to the AP.
Marca also reported that Pavel didn't want to make any judgments about sexism after the remarks. She told the newspaper, "I can't say if someone is sexist or not if I don't know them. I'll say what happened and everyone can think what they want."
Still, the 31-year-old defender said she was "humiliated," and that Alcón's comments demonstrated a "lack of respect." Pavel concluded, "It was an unpleasant day."
Women on and off the field have been known to have similar bad days. Earlier this month, Australian cricket player Chris Gayle asked sports reporter Mel McLaughlin to drinks during an interview.
"I mean, I wanted to come have this interview as well — that's the reason why I'm here, so... Just to see your eyes for the first time," Gayle said to McLaughlin. "It's nice. Hopefully we can win this game and then we can have a drink after as well. Don't blush, baby."
Gayle was hit with a $10,000 fine from his team for the comment, but it looks like Pavel might pay the price for Quijada Alcón's indiscretion. According to the Associated Press, the local referee association may "take action" against Pavel for her accusations. 
Said Pavel, "In the many years I've been playing football I've never felt so ashamed."