Washington, DC Snow Forecast: How Much Snow Will Potential Blizzard Bring?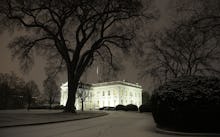 Pool/Getty Images
Winter Storm Jonas is bringing a tangible amount of snowfall to a large swath of the East Coast this weekend, the resulting predicted weather conditions of which have already led to thousands of flight cancellations, according to the Weather Channel. Of the areas predicted to see lots of snow, Washington, D.C., is expected to be hammered the hardest. According to a blizzard warning from the National Weather Service, the capital region could be covered in 18 to 24 inches, and up to 30 inches west of Interstate 95. According to predictions, D.C. proper could get two feet of snow. 
The NWS's blizzard warning is in effect from 3 p.m. EST Friday through 6 a.m. EST on Sunday. "An area of low pressure centered over the southeastern U.S. will continue developing into a major winter storm which will impact a large portion of the East Coast from the southern Appalachians through the Mid-Atlantic states from Friday into the weekend," reads a statement from the NWS. "Snowfall totals may exceed 2 feet in portions of these areas, including the Baltimore and Washington D.C. metropolitan areas."
Read more: 
If predicted snowfall comes true, snowstorm Jonas would bring a record-breaking amount of snow to the capital over the past five years. The last unusually high snowfall in D.C. was "Snowmageddon," a storm that happened in February of 2010 and which brought 17.8 inches, according to NBC Washington. 
Yet the amount of snow that's predicted in D.C. this weekend rivals the district's most historically high accumulation of snowfall, which happened in 1922. The Knickerbocker storm, as it's called, brought 28 inches of snow to the capital area. The weight of the snow caused the Knickerbocker Theatre's roof to collapse, which caused the death of nearly 100 people.
As of Friday, the NWS was predicting with 90% probability that D.C. will receive 12 inches of snow.
On Friday, AccuWeather reported that north of 50 million Americans could be affected by the impending storm. For a full list of blizzard preparedness items, head here.