Flight Cancellations in the US: Full List of Flights Canceled Because of Blizzard 2016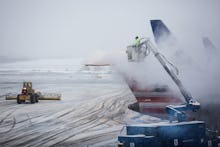 Andrew Burton/Getty Images
In anticipation of Winter Storm Jonas, the East Coast's first winter storm of the season that is passing through Mid-Atlantic, Northeastern and New England states this weekend, thousands of domestic flights have already been cancelled at major hubs in several states including North Carolina, Maryland, New Jersey and New York and Washington, D.C. The storm, which weather experts have warned could become a record-breaking blizzard, is expected to dump up to 30 inches of snow in D.C. and up to a foot of snow in New York City. 
United Airlines cancelled a majority of flights departing from Washington Dulles International Airport and all other Mid-Atlantic hubs starting Friday at 4 p.m. EST through Saturday as a precautionary measure and is suspending all flights at Newark Liberty International Airport in New Jersey on Saturday. Service at all airports is scheduled to resume Sunday, according to the airline's official Twitter account.
North Carolina's Charlotte Douglas International Airport, Washington D.C.'s Ronald Reagan National Airport and Baltimore/Washington International Airport are among several major hubs cancelling a number of flights due to the storm. A full list of cancelled flights by airline and airport is available on FlyAware. As of Friday afternoon, the website listed 2,907 flight cancellations "within, into, or out of the United States today."