Bud Light Super Bowl 2016 Ad Replaces Puppies With Amy Schumer and Seth Rogen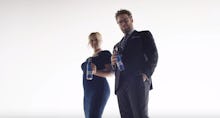 YouTube
Forget political parties, Amy Schumer and Seth Rogen just want to party. The two comedians confirmed their "Bud Light Party" membership in an election-themed teaser for Bud Light's always anticipated Super Bowl commercials released Friday. Their slogan? "Raise One to Right Now." 
The 30-second ad teaser shows Schumer and Rogen getting glammed up for an unspecified event — spandex, deodorant and all — before proudly assembling their "Bud Light" political party pins and toasting their Bud Light beer bottles to whatever they have in store for Bud Light's Super Bowl commercials airing Feb. 7.
The idea behind the commercial is to unite the bipartisan nation on a common belief: Bud Light rocks (questionable) and beer rocks (we can get behind that). "Despite the fact that there are so many things people disagree upon, we believe and we know that there are so many things that people agree upon and Bud Light is one of those. Beer is one of those," Bud Light vice president Alexander Lambrecht told AdWeek.
Super Bowl viewers (at least those who watch for the commercials) may be briefly disappointed to find out the beer brand is nixing it's adorable puppy commercial for 2016 — but that disappointment will be short-lived because Schumer and Rogen are just as cute and lovable as puppies.