Academy Awards Announces Plan to Diversify Membership by 2020, Organization Says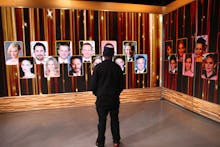 Fred Lee/Getty Images
The Academy of Motion Picture Arts and Sciences said it's looking to overhaul its membership to include actors from more diverse backgrounds, a move that comes just a week after the Academy announced its nominees for the Oscars 2016. Not a single non-white actor was nominated for an acting role, marking the second year in a row the Academy failed to recognize an actor of color in all four acting categories — best actor, best actress, best supporting actor and best supporting actress. 
"The Academy is going to lead and not wait for the industry to catch up," Academy president Cheryl Boone Isaacs said in a statement published Friday. "These new measures regarding governance and voting will have an immediate impact and begin the process of significantly changing our membership composition." The Academy's membership is currently 77% men and 94% white, according to the University of Southern California's Critical Media Project. 
Here's more on the Academy's diversity problem from Mic Check: 
The Academy said it plans to double the number of women and minority members by 2020 as a direct response to the backlash the Oscars received for nominating only white actors. Some Hollywood A-listers, including actors Will Smith and Jada Pinkett Smith, said they would not attend the Oscars over the controversy. 
Among the changes the Academy said it would make are to limit members' voting power to 10 years. Currently, members' voting power lasts a lifetime. 
"At the same time, the Academy will supplement the traditional process in which current members sponsor new members by launching an ambitious, global campaign to identify and recruit qualified new members who represent greater diversity," the statement from the Academy reads. 
The fallout from this year's Oscars nominations was swift. Actors and social media users alike denounced the Academy for snubbing actors of color, something they said came not from a lack of talent, but from Hollywood's deep-seated diversity problem. Twitter users rallied around the hashtag #OscarsSoWhite to call attention to the award show's apparent bias for white roles. 
Jan. 22, 2016, 3:50 p.m. Eastern: This story has been updated.