The Oscars' decision to diversify membership is groundbreaking, shocking and necessary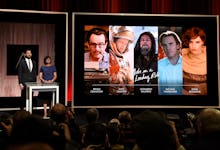 The Academy of Motion Picture Arts and Sciences voted unanimously to make several crucial changes to diversify the membership that votes for the Oscars each year. No longer will memberships be lifelong; instead, they'll be term-limited and based on how much each member works. The academy will scour the industry for more diverse members to recruit. Female and nonwhite member counts will be doubled by 2020.
Changes like these are ambitious, exciting and, for an academy that has often been slow to react to criticism, quite shocking. Over the next four years, an all-white acting nominee pool will become increasingly difficult to imagine. But make no mistake: Not changing wasn't an option. This was necessary for the Oscars' continued relevance in pop culture.
#OscarsSoWhite 2.0 may have been a sequel this year, but it was far more ferocious than the original. In 2015 the campaign was mostly digital and led by viewers and critics, not by celebrities. This year, celebrities such as Will Smith and Jada Pinkett Smith led the charge with threats of a boycott. Huge stars such as Lupita Nyong'o, George Clooney and Spike Lee slammed the academy in the press, while host Chris Rock heard calls to step down.
Keep in mind, the Oscar nominations were announced just one week before the academy voted on the changes. Imagine what the next five before the Feb. 28 ceremony would look like had they not. Faced with a public relations catastrophe that would only grow, the academy made the only move it could.
Compared to some of the potential changes, including expanding the number of nominees in the acting categories, these moves to diversify membership are relatively tame. However, they speak to a desire to not merely put a fresh coat of paint on a rotting house. The house is being gutted; the end product will be more stable.
Some, such as actress Viola Davis, have argued that the problem with #OscarsSoWhite is not in the awards themselves, but in an industry that still offers few opportunities to performers and creators of color. They're correct: Hollywood remains woefully exclusive, and these changes won't fix that problem. However, after a year in which Oscar voters did ignore several powerful performances from actors of color, the academy wisely knew they couldn't wait.
"The academy is going to lead and not wait for the industry to catch up," president Cheryl Boone Isaacs said in the academy's statement. "These new measures regarding governance and voting will have an immediate impact and begin the process of significantly changing our membership composition."
Last year, Isaacs and the academy blamed Hollywood. This year, #OscarsSoWhite worked. There will be change at the Academy Awards. Is it an end-all, be-all solution? Of course not. Is it a crucial step forward? Absolutely.