Rumored Radiohead New Album Cover Is Similar to Band's 1997 'OK Computer' Album Artwork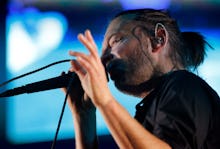 Armando Franca/AP
Radiohead hasn't confirmed a cover artwork for their new album, let alone confirm there's even an upcoming album, however recently announced tour dates and new art uploaded to the band's site have fans jumping the gun a bit, New Musical Express reported. 
The English rock band announced Thursday three Europe music festival performances and new art popped up on their site that closely resembles the cover art for their 1997 album OK Computer. Both feature inverted color photography of icy, isolated terrain. 
Read more:
Here's the art causing all the buzz:
The album would be Radiohead's ninth studio album. In September, drummer Philip Selway essentially told NME an album was approaching. "We want to finish a record and that's where we're at," Selway said. "We're just launching ourselves into it."
Radiohead is slated to perform at the Primavera Sound Festival in Barcelona in June, Open Air St. Gallen in Switzerland at the end of June/early July and the Nos Alive Fest in Lisbon, Portugal, in July. Check Radiohead's site for tickets.