12 Netflix Movies to Watch During a Snowstorm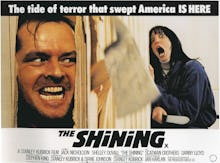 Warner Bros.
With a major snowstorm bearing down on the Northeast, people from Baltimore to New York are preparing to hole-up and stay cozy while the snow falls. In order to maximize comfort during the snowstorm, here are the best movies and snows to stream on Netflix while trapped indoors all weekend.
1. The Shining
What better movie to watch when you're stuck inside by the snow than a movie about a man who slowly goes crazy because he's stuck inside by the snow? The Shining is streaming on Netflix ... if you can handle it.
2. Jessica Jones
Being home all weekend during a snowstorm means you finally have the time to binge-watch all the shows that everyone is talking about, like the super-hero noir Jessica Jones. All thirteen episodes are streaming on Netflix.
3. Bridget Jones's Diary
This classic feel-good romantic comedy features a fake British accent, a fight between Hugh Grant and Colin Firth and a bunny costume. What more could you need during a blizzard?
4. Tangerine
This 2015 film about a woman and her best friend traipsing through Los Angeles, California, on Christmas Eve is a fast-talking, darkly funny film, with an amazing cast, including transgender actresses Mya Taylor and Kitana Kiki Rodriguez. If you didn't see Tangerine in theaters (or even if you did) it's streaming on Netflix.
5. Antarctica: A Year on Ice
Antarctica: A Year On Ice chronicles a year in one of the coldest, harshest climates on Earth — so it's the perfect documentary to watch while you're holed-up in a cozy apartment, sipping on cocoa.
6. Ferris Bueller's Day Off
Even though Matthew Broderick was way too old to be in high school when Ferris Bueller's Day Off came out, he was still adorably believable as the mildest bad boy around. This is the perfect '80s movie to watch in a blizzard.
7. Making a Murderer
If you haven't seen Netflix's true-crime docu-series Making a Murderer yet, this storm is your chance. Then, spend all night debating the intricacies of Steven Avery's trial.
8. Grease
Nothing is more uplifting than musicals, which makes Grease the perfect movie to stream on Netflix when the stormy weather is getting you down. Even though the morals are totally confusing (you have to wear leather to be popular in high school?) this is still one of the best high school musical movies ever.
9. A League of Their Own
There's no crying in blizzards, or in baseball, which is exactly why A League of Their Own is a great movie to watch on Netflix when you need to keep a stiff upper lip in the face of an impending snowpocalypse.
10. Wet Hot American Summer
The best time to fantasize about summer in in the middle of a snowy winter. And if you've ever been to summer camp, you've probably already seen and identified with this absurd comedy. Once you've finished the Wet Hot American Summer, you can stream its prequel series on Netflix.
11. The Babadook
If you're the kind of person who likes being terrified while you're safe and warm, watch The Babadook during this coming snowstorm and get so scared you need to hide under your covers and log out of Netflix. Just kidding, we know you'll never log out of Netflix.
12. Wayne's World
Once you're terrified because we made you watch The Shining and The Babadook, unwind by streaming Wayne World. It doesn't make a lot of sense, but if you want to watch Mike Meyers and Dana Harvey be very weird for 90 minutes, this is the perfect snowstorm movie for you.