Talib Kweli and Iggy Azalea Clash Over Macklemore's "White Privilege II"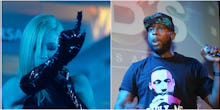 White rapper Macklemore and white producer Ryan Lewis offered a bold conversation starter on Thursday night to white America, in the form of a nearly 9-minute rap titled "White Privilege II." Over a minimal, jazzy piano line, Macklemore meditates on the ways the color of his skin have afforded his music a very different treatment from that of his black peers in the hip-hop industry. In the process, he mentions three other artists who have experienced the same benefits: Iggy Azalea, Miley Cyrus and Elvis Presley.
"You've exploited and stolen the music, the moment," he raps, summing up the accusations of cultural appropriation all three artists have received over the course of their careers. "The magic, the passion, the fashion, you toy with/ The culture was never yours to make better/ You're Miley, you're Elvis, you're Iggy Azalea." 
Iggy Azalea was not happy.
While responding to a fan who asked if she had heard the song, Azalea tweeted Friday afternoon, "He shouldn't have spent the last three years having friendly convos and taking pictures together at events, etc. if those were his feelings."
When another fan suggested that she "shouldn't give a fuck," she responded, "Trust me, I don't. Lol."
Her dismissive response did not sit well with much of the Twitterverse, least of all with rapper Talib Kweli, who took the rapper to task for interpreting Macklemore's mention as a diss, rather than as an opportunity to add to a productive conversation about race in America.
As evidence that Azalea doesn't respect hip-hop, Kweli mentioned three widely publicized instances of times she violated the unwritten rules of hip-hop: The first when she bit lines from Kendrick Lamar, something she admitted to doing on her 2011 song, "D.R.U.G.S." He also called her out for allegedly tweeting the word "nigga," an offense other hip-hop legends have also called her out for in the past, and for dissing legend and hip-hop godfather Q-Tip, who attempted to give her a hip-hop history lesson back in December 2014 when she was first fielding accusations of appropriating hip-hop culture.
Digging up Azalea's past predictably brought a swarm of Iggy fans to Kweli's doorstep, whom began trolling him incessantly.
Eventually Azalea herself began scrapping with Kweli, defending herself against his accusations while giving a roundabout apology for her initial tweets.
As of press time, Azalea had posted 28 tweets directed at Talib Kweli, while Kweli continued to clarify his point. 
At this point, emotions are high and the conversation doesn't seem to be making any progress towards a mutual understanding. With issues as grave as white privilege and black lives, it's often far more important to listen than it is to spar.