Despite Vote, Whitesboro Town Seal With Native American Being Strangled Will Change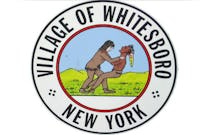 Despite a much-publicized vote during which residents of Whitesboro, New York, chose to keep their town seal, which depicts town founder Hugh White wrestling (some would say strangling) a Native American, city officials are moving forward with a plan to change the seal, the New York Times reports.
Earlier in the month, Courthouse News reported that the town notified its 3,000 residents, only five of whom identify as Native American, that they would vote whether to keep the seal or change it to a range of new options. According to the New York Times, 212 residents cast ballots, 157 of whom voted to keep the seal.
Defenders of the seal argue the graphic depicts White in a friendly wrestling match with a member of the Oneida tribe, rather than attempting to murder him.
Mic previously reported that the town's seal has been altered at least once before: White's hands moved from the Indian's neck down to his shoulders.
In a statement obtained by the New York Times, Mayor Patrick O'Connor said descendants of the founder reached out to let the town know that they were open to a new seal. 
A statement from Ray Halbritter, chief executive officer of the Oneida Indian Nation, applauded the decision. 
"As we've always said, we are happy to work with anyone who wants to make sure the symbols they are promoting are honoring and respecting all people," he said. "We applaud the village leaders' willingness to evaluate their own symbols and how to make sure they accurately reflect their community's core values."