This Actress Said She Wished She Were African American Because Women Get No Respect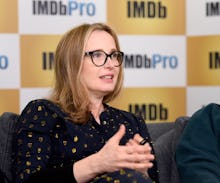 While Hollywood is currently having a serious conversation about Hollywood diversity, especially when it comes to its awards shows, one Oscar-nominated writer and actress just spoke out about the overwhelming misogyny she feels as an artist and creator in the movie business. 
While speaking at the Sundance Film Festival on Friday, actress and writer Julie Delpy said there's "nothing worse than being a woman" in the film industry, TheWrap reported. 
Delpy has garnered two Oscar nominations for her films "Before Midnight" and "Before Sunset" and said that, prior to the current controversy embroiling Tinseltown, she tried to raise concerns about the overwhelming amount of white men in the business, but nobody listened. 
"Two years ago, I said something about the Academy being very white male, which is the reality, and I was slashed to pieces by the media," she told TheWrap. "It's funny — women can't talk. I sometimes wish I were African American because people don't bash them afterward."
Delpy continued to talk about how reviled women are in Hollywood, "It's the hardest to be a woman. Feminists is something people hate above all. Nothing worse than being a woman in this business. I really believe that." 
Delpy's comments did not address black women, who do not have the ability to choose between being black or being a woman in Hollywood. 
In 2014, Delpy told So Film that the Oscars are "90% white men over 70 who need money because they haven't done anything in a long time."
She added, "You just need to give them two or three presents and they're in your pocket. It doesn't mean anything to me, so I don't really care if there are women in the selection process." 
Delpy's comments come only days after several black women — Jada Pinkett Smith and Viola Davis, to name a few — have spoken out against the problem with the Oscars and Hollywood's movie-making process.