Blizzard 2016: 32 Photos of Winter Storm Jonas and Historic Snowfall on the East Coast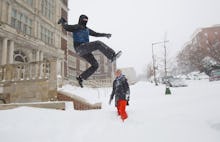 Winter Storm Jonas is here, and it's a doozy.
The massive storm system hit the East Coast of the United States on Saturday morning, pounding the mid-Atlantic and Northeastern region from Washington, D.C., all the way to New York and New Jersey with feet of snow and inconvenience beyond measure.
Eight people in the storm's path have reportedly died while Jonas has affected 85 million people, reports Fox News. Over 8,000 flights have been cancelled.
Here's some photos of the historic storm, which is expected to keep dropping snow through Saturday night.
Space
Astronaut Scott Kelly, who is currently on board the International Space Station, posted what he called a rare photo of lightning in a blizzard from space.
New York
The Big Apple is projected to receive 12-18 inches in the northern half of the city, and between 18 and 24 inches in the southern half, according to the New York Times. On Saturday, Gov. Andrew Cuomo issued a total travel ban effective in 13 counties including all of New York City effective at 11:00 p.m., closing all state and local transportation networks to all but emergency vehicles.
Subway service on exterior routes in NYC ends earlier, at 4:00 p.m., and service is already canceled.
Washington, D.C.
The nation's capital is receiving higher snowfall than New York, with total levels of the fluffy stuff expected to exceed two feet (up to 29 inches) and set all-time D.C. records.
Residents are in for a rough ride. According to Fox News, earlier this week on Wednesday, "Less than an inch of snow was enough to immediately turn roadways treacherous in the District, Maryland and northern Virginia, causing hundreds of accidents and leaving drivers gridlocked for hours. President [Barack] Obama wasn't spared, as his motorcade slowly weaved and skidded along icy streets to the White House."
Philadelphia
Philadelphia will receive up to two feet of snow, placing the storm in the top five in 132 years of the city's history, reports the Inquirer. Nearby Chester County may receive up to 30 inches.
Baltimore
The Baltimore area is expected to get 18-24 inches of snowfall, with up to 17.4 inches already reported deposited in areas of the city, according to the Baltimore Sun. The metro area will experience winds of 30 mph, with 50 mph gusts.
New Jersey
The state of New Jersey is experiencing coastal flooding as a result of Jonas, with the cities of Great Channel and Stone Harbor breaking flood records "previously set during Superstorm Sandy," according to the Weather Channel.
18 inches of snow are expected in the region.
Jan. 23. 2015, 12:48 p.m.: This article has been updated to include a travel ban issued by New York Gov. Andrew Cuomo.