6 Arizona Students Used School Spirit T-Shirts to Spell Out the "N" Word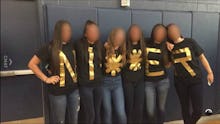 In what can only be described as the most offensive game of Boggle to ever take place, six students who took part in Desert Vista High School's senior photo shoot to spell out "Best * You've * Ever * Seen * Class* Of * 2016" rearranged the letters after the photo shoot to spell out "Ni**er," Phoenix local affiliate ABC 15 reported. 
According to ABC15, parents contacted the local station once the photo was making rounds on social media. 
In an official statement from superintendent Kenneth R. Baca, the school official called the event "unacceptable."
"We need to understand that words matter," Baca said. "I can assure you that appropriate disciplinary action will be taken." 
Desert Vista principal Christina Barela added she shared the "outrage and disappointment" over the photo in a letter to parents, as well.
"We want to make it crystal clear those actions are unacceptable and will not be tolerated at Desert Vista," Barela wrote. "Those actions do not represent who we are as a campus." 
Other groups have also come together to say that the girls' actions do not represent the campus. The Black Student Union tweeted out a message to its followers late Friday afternoon. 
A Phoenix resident started a Change.org petition to expel the students for their "blatant expression of racism and ignorance." At time of publication, the petition has over 10,000 signatures and is more than two-thirds of the way toward its goal of 15,000 signatures. 
A spokeswoman for the Tempe Union High School District told the Guardian that the district was handling the situation according to their policies. 
"They took the senior photo, all went well, apparently these girls went off to the side and rearranged what you see in the photo," Hanks said. "We are just as outraged as everybody else. It's disgusting, It's horrible, I don't even know if words describe it."
Though no news outlets reported exactly what the disciplinary action entailed, rumors of a five-day suspension circulated social media, which prompted a discussion on appropriate action on Twitter.