Former NYC Mayor Michael Bloomberg Seriously Considering Running for President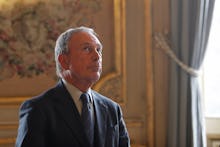 Michael Bloomberg, billionaire financial services and media mogul, and former three-term New York City mayor, is apparently seriously considering a third-party run for the White House.
According to the New York Times, Bloomberg has "instructed advisers to draw up plans for a potential independent campaign in this year's presidential race" after sensing an opportunity to shine amid the chaos of 2015's primary season. Bloomberg is appalled by the rise of fellow NYC billionaire and Republican frontrunner Donald Trump's racist rhetoric, the "stumbles" of Democratic frontrunner Hillary Clinton and the rise of the openly socialist Vermont Sen. Bernie Sanders, according to the Times.
The Times reported Bloomberg would be willing to spend a shocking $1 billion of his own money on the race, approximately equivalent to the amount of money raised by both President Barack Obama and Republican nominee Mitt Romney's campaigns in the 2012 presidential elections (not counting $5 billion in outside spending, such as that by parties and super PACs).
The 73-year-old former mayor, who led the metropolis from 2002 to 2013, apparently aims to capitalize on his reputation as a non-ideological technocrat, reports the Times, and plans on introducing himself with a series of speeches, including detailed policy proposals, and an aggressive advertising campaign.
Bloomberg would face immense challenges in any such campaign, while history offers an abundance of cautionary notes for would-be independent candidates.
No candidate outside the dominant two-party system has ever won the presidency. The closest such attempt was made by Theodore Roosevelt, who ran on the Bull Moose Party ticket in 1912. Despite boasting a previous presidency under his belt, Roosevelt was only successful in splitting the Republican ticket and ensuring a win for Democrat Woodrow Wilson.
Popular wisdom also credits a 1992 third-party run by Ross Perot with blowing the election against incumbent President George H.W. Bush in favor of Democrat Bill Clinton, though MSNBC's Steve Kornacki argues Perot hurt both parties more or less equally.
While Bloomberg's candidacy would likely draw lustful gazes from Wall Street, where the former mayor enjoys a deep well of support, it's unclear whether he enjoys that same support on a national level.
A recent poll by Morning Consult found just 13% of voters would currently support a Bloomberg presidency, large margins behind Clinton at 36% and Donald Trump at 37%. The same poll found the conventional wisdom that Bloomberg's run would hurt Clinton more than Trump is likely correct.
"If it was President Trump or President Bloomberg, I'd certainly rather have President Bloomberg," long-time Clinton ally Alan Patricof told the Times. "But it certainly can't help Democrats."
However, according to the Times' report, Bloomberg is likely to run only if Sanders wins the nomination, opening more opportunity for him to draw votes from Democrats.