Guess Who Is Having the Most Fun Snow Day Ever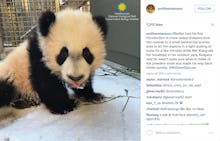 Snow days are a drag, right? Get ready to put your foot in your mouth. 
Just like this panda. 
Tian Tian, a giant panda who lives in Washington, D.C.'s National Zoo, woke up to see his turf covered in several feet of snow thanks to winter storm Jonas. 
The National Zoo posted a video of the panda's jubilant frolic on its Facebook page and people are losing their minds. At one point, Tian Tian gets so excited he just needs to gnaw on his paw. 
This is not Tian Tian's first snow, but it is the first snow for his son, Bei Bei, and the National Zoo also shared a snap of the cub on Instagram. 
However, it was not exactly like father, like son: Bei Bei retreated inside soon after his first encounter with the snow. 
While the snow has been extremely inconvenient for many of the 85 million people affected by Jonas, it's easy to see that Tian Tian is living his best life.