Twitter Responds to #Snowzilla, the First Blizzard of 2016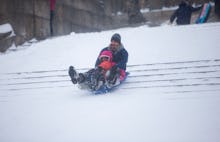 Winter Storm Jonas hit the East Coast on Saturday, with major metros from New York City to Washington, D.C., expected to receive up to two or more feet of snow. With 85 million people affected by the storm, a lot of people have locked themselves inside.
There's probably no better time to tweet than while involuntarily locked inside by feet of snow — and Snow Twitter did not disappoint as everyone tried to prove themselves a unique snowflake.
Here's a sampling of the funniest posts from throughout the day:
Some people even dared to speak the truth:
Others, seeing the unending curtain of white blanketing their neighborhoods, turned to recklessness or despair.
Finally, there were the headache-inducing puns, because of course there were.
(Count us as snowed out.)