Blizzard 2016: How Much Snow Did New York City Get During Winter Storm Jonas?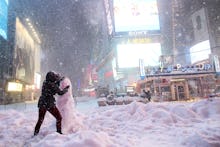 Yana Paskova/Getty Images
The blizzarding part of 2016's snowpocalypse appears to be behind us now, but Saturday's Winter Storm Jonas was no joke, despite having inspired what felt like a million memes. New York City remains relatively calm as the city struggles to shake off its 26-inch-thick snow mantle and resume normal activity, after having shut down during a day-long onslaught of sideways-blowing flakes. Three people reportedly died in NYC and two on Long Island, all in shoveling-related incidents.
Read more:
"Stay inside," New York mayor Bill de Blasio said leading up to the storm, "don't take risks." And New Yorkers mostly listened, if for no other reason than there wasn't really anywhere to go.
Above-ground trains stopped running at 4 p.m. EST on Jan. 23, while the rest of the subway moved at a mostly glacial pace and on an unpredictable schedule. All non-emergency vehicles were banned from roads starting at 2:30 p.m. — except, apparently, for one SUV that a few intrepid urban snowboarders enlisted to tow them around the snow-banked streets of Manhattan. Officers let them off without even a warning.
How did snowfall break down by borough?
Manhattan: According to the Weather Channel, Central Park lay under a cozy cover 26.6 inches thick as of Saturday, the city's total accumulation coming in at 26.8 inches by 1 a.m. EST on Sunday, .1 inch short of the 26.9-inch record.
The Bronx: According to the National Weather Service, Jonas dumped 27.6 inches over Bronx County. 
Queens: As the NWS reported, Queens County saw the most intimidating pile-ups — 30.5 inches at John F. Kennedy Airport and 27.9 at LaGuardia. The Little Neck region saw 24 inches, while Fresh Meadows got 26.5 and Oakland Gardens got 27.4.
Brooklyn: The borough-wide average for Brooklyn was 27 inches, while Williamsburg received a 29-inch dusting and Fort Greene saw 24.5 inches, according to the NWS.
Staten Island: Which NYC borough wins the sum total snowfall war? Staten Island, where the NWS reported that snow on the ground in Port Richmond measured 31.3 inches deep.
Westchester County fared a bit better than the city itself, charting an average accumulation of 13.7 inches, according to data from the NWS. Long Island was hit fairly hard, with Nassau County coming in at an average of 21.9 inches (and quite a spread within that — Hicksville received a high of 29.6 inches while Bellmore posted the county low of 16 inches).
The travel ban was lifted at 7 a.m. Sunday morning — subways and buses are once again running. Service on the Long Island Railroad remains suspended, but Metro North trains will be operational again by noon, albeit on a limited timetable. 
New Yorkers (and really everyone living on the coastal region of the East Coast) can now look forward to the watery hell that awaits when the over-26-inches of snow blanketing the Big Apple melts and surges into the sea. Out of the frying pan, into the flood waters. So to speak.