Blizzard 2016 Snow Totals For D.C., Maryland and Virginia During Winter Storm Jonas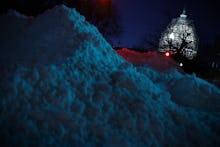 Alex Wong/Getty Images
It's beginning to look a lot like a snow apocalypse: Snowboarders have taken over the streets of New York City, the nation's capital is up to its waist in snowfall and people are dying just from shoveling the massive dumping of snow still striking the East Coast. 
In Maryland and Virginia, 38 and 39 inches were recorded as of 2:14 a.m. EST on Sunday, according to the Weather Channel. The Weather Channel also reported Jonas is the largest snowstorm ever recorded in Pennsylvania and Baltimore, not to mention a whopping 40-inch snowfall in Glengarry, West Virginia. 
The Washington Post's Capital Weather Gang is calling total snowfall measurements taken at Reagan National Airport on Saturday night into question, saying the true total impact of snow from Winter Storm Jonas is much higher than what was recorded at the location. 
Read more:
"As of 8 p.m., 17.8 inches of snow had been recorded at National – Washington, D.C.'s official weather monitoring location," Angela Fritz, the Post's deputy weather editor, reported Saturday night in the midst of winter storm Jonas. "That reflects just a 0.3-inch increase in the three hours since 5 p.m. during which time light to moderate snowfall was being reported at the airport." 
In Chevy Chase, Maryland, Peter Yeo recorded 29.5 inches, just a thirty-minute drive from the Reagan National Airport. "How could Reagan really get 10 in. [inches] less?" Yeo wrote.  
Fritz also reported just why correct measurements of total snowfall are so important: The numbers dictate impacts felt by millions of people from the economy, on life and in property rates.
Winter Storm Jonas is one of the largest snowstorms in recorded history and has killed at least 19 people, according to the Associated Press.