How Much Snow Did Boston Get During 2016 Blizzard?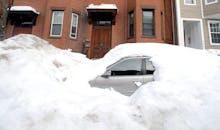 Elise Amendola/AP
Winter Storm Jonas did not spare Boston its icy wrath, but the Massachusetts city definitely saw a dulled-down version of the blizzard. According to numbers from the National Weather Service, 8.2 inches fell in Boston, 7 inches accumulated in South Boston and 6.1 inches were dropped in the vicinity of Logan International Airport.
While that accumulation may seem like child's play to residents of New York City and Washington, D.C. — where the snow storm lived up to the apocalyptic reputation that preceded it — the average half-foot of powder was enough to lure the Boston Yeti out into the streets. He kept residents apprised of the situation on the ground as the storm "raged" Saturday night. 
Read more:
Boston's transportation system apparently functioned fine. The same could not be said for New York's subway lines.
Other parts of Massachusetts were less lucky: According to the NWS, West Harwich in Barnstable County received over 15 inches of snow, and parts of Plymouth County also got over a foot. Nantucket came in at 11.5 inches, while Martha's Vineyard was also hit fairly hard: 13.3 inches fell over Oak Bluffs, the NWS reported.
East Coast residents who begrudge Bostonians their 2016 blizzard that wasn't should consider this a deserved respite: The city saw 110.6 inches of snow during the winter of 2014-2015, its all-time record.