Here's How to Check How Much Snow Jonas 2016 Brought to Your Area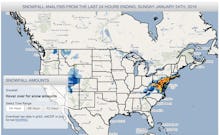 Weather.gov
Want to check how much snow Winter Storm Jonas brought to your area? The National Oceanic and Atmospheric Association has a snowfall analysis map that can provide information on the amount of snowfall in inches, over a 72-hour period. The storm ended Saturday night, but not before causing the deaths of at least 14 people, breaking many snowfall records and dumping snow across five states. 
Read more:
Covering the entire United States, the snowfall analysis map provides snowfall amounts by hovering over your area with the mouse. The Atlantic coast was hit the worst by the blizzard, with several cities reporting 20 inches of snow or more.
West Virginia saw the most snow, which 40 inches reported in the city of Glengarry. Virginia, Maryland, New York and Pennsylvania all saw more than 30 inches of snow. According to the National Weather Service, Jonas left behind a total snow accumulation of 26.8 inches in Central Park, which is the second largest amount of snowfall in New York City since 1869.
Before shovelers go out to clear their property of snow, there are some safety measures to consider first.