Watch the Best Ronda Rousey Skits From 'Saturday Night Live'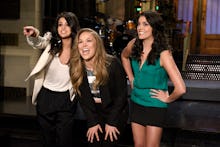 NBC/Getty Images
Saturday night marked the unofficial comeback of the former UFC women's heavyweight champion of the world — in a ring she has yet to step foot in. Ronda Rousey hosted the latest Saturday Night Live, opening the show by acknowledging her loss to Holly Holm but getting right back to work, pretending her monologue was part of a fighting match.
And a fighting match it was. Rousey didn't need to prove her comeback into the American limelight was worthy, but she treated the New York City stage on Saturday night like it was her return to the spotlight, and she owned it. Not only did Rousey appear comfortable in her first live TV appearance since her loss to Holm, but her acting was on par with other hosts, and it was one of the more timely shows of the season. 
Selena Gomez was Saturday's musical guest, and the show brought back special guest Tina Fey for a skit mocking former VP candidate Sarah Palin's endorsement of Donald Trump. Check out some of the best skits of the night including Rousey below:
Love Struck
When the high school's new girl is tricked into thinking she's going on a date with the most popular jock in the school, Rousey decides to fight back. Vanessa Bayer hilariously refuses to quit throughout the altercation, providing for a hilarious takedown by Rousey.
Teacher Trial
What starts as a televised court case in which 16-year-old Gavin Daley's mother is suing two Palo Alto school teachers (played by Rousey and Cecily Strong) turns into a rather twisted tale of what happens when a high school freshman becomes notorious for scandals with multiple teachers...at the same time. 
Bland Man
Bland Man reality TV show quite similar to The Bachelor — several beautiful contestants vying for the love of one man. The only differences are the "bachelor" in this show prefers denim jeans to suede suits and the women all turn out to be insane, including Rousey. 
Screen Guild Awards
Arguably the funniest and most newsworthy skit of the night came when the SNL crew lambasted the Oscars following the recent #OscarsSoWhite controversy. Rousey makes a cameo appearance in this bit, in which "All the White Guys" win a coveted award for their work in films focusing on African-American civil rights throughout history.