Trump Campaign Spokeswoman Wanted "Pure Breed" Presidential Candidates in 2012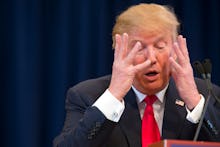 In November, Fox News host Bill O'Reilly relayed a simple piece of advice to current Republican presidential frontrunner Donald Trump: Stay off Twitter.
Looks like the memo reached Trump's campaign a few years too late. On Saturday, Gawker dug up a real doozy of a post from one of his top campaign staffers from all the way back in 2012.
Comparing President Barack Obama and then-Republican candidate, former Massachusetts Gov. Mitt Romney, now-Trump national campaign spokeswoman Katrina Pierson derided the two candidates' foreign-born parents and lamented the lack of "pure breeds" in the race.
While Pierson might have been joking, and is herself the daughter of a white woman and a black man, "pure breeds" is an unmistakably racially loaded term.
Its counterpart, "half breed," is a well-known racial slur.
On Sunday, Pierson said she would not retract the tweet on during an appearance on CNN's Reliable Sources, saying "Look, these tweets – I'm an activist, and I am a half-breed, I'm always getting called a half-breed, and on Twitter, when you're fighting with Twitter and even establishment, you go back at them in the same silliness they're giving you. So I myself am a half-breed."
Barack Obama Sr. was a Kenyan who lived in the U.S. for about five years, while Romney's father, George W. Romney, was born to American parents at a Mormon commune in Mexico.
Their sons are both natural-born Americans, though Trump's years-long flirtation with conspiracy theories surrounding Obama's citizenship and eligibility to be president has contributed to his popularity among white nationalist hate groups.
According to Raw Story, Pierson also made a flippant reference to Obama's race in 2013 when she tweeted "this corrupt country has a head Negro in charge." More recently, Pierson has spearheaded the Trump campaign's attacks on fellow candidate and Texas Sen. Ted Cruz for his birth in Canada.
But despite her preoccupation with candidates' ethnic backgrounds, Pierson apparently has no problem with the fact Trump's mother came to the United States as a Scottish immigrant named Mary Anne MacLeod.
The Trump campaign did not respond to a request for comment from Mic.
Jan. 22, 2016, 12:50 p.m.: This story has been updated to include a statement from Pierson on the controversy.