To See What a Feminist Fashion Icon Looks Like, Go All the Way Back to Dolly Parton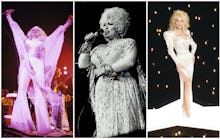 When I was 10 years old, or maybe 11, my mother sat me down in front of a television to watch the movie 9 to 5. 
It was then that I first laid eyes on her: Dolly. In the film, Parton's character wears countless incredible outfits, like sweater dresses with thick belts that flatter her figure. Frilly, feminine, V-neck blouses with slim-lined pencil skirts. Hair teased so high that sometimes you think it'll hit the ceiling. A gold lamé cowgirl outfit when she lassos her boorish boss. I absorbed all of this and thought: Yes.
With her ample rhinestones and cinched waist, Parton commanded respect — demanded it, even. As a petite woman with a larger chest, I started taking notes.
Parton's character is done up in such a way that might seem to render her powerless — an ultra-sexualized cartoon of femininity, with every feature tailored to the male gaze. In real life too, Parton was seemingly set up for powerlessness, as a poor girl from rural Appalachia: a petite, big-breasted, big-haired blonde.
But remarkably, Parton didn't run away from those physical markers or what they suggested. Instead, she leaned into them. With her hair, makeup, clothes and even her body, Parton's actively grabbed the male gaze back, along with all the female beauty standards it's wrought, and used them to craft her very own image — one that refuses to be ignored, lampooned or defined by anyone but her.
Think "Dolly Parton" and you think of one, maybe two, things: her talent and her body. She famously has tattoos, which she keeps under wraps. What she doesn't hide is her figure: She is an exaggerated cartoon of a woman, someone who has taken the hourglass figure and skewed the measurements to the extreme. While she was naturally quite full-busted, Parton reportedly got her first breast enhancement surgery early in her career. according to multiple sources.
Since then, she's never been shy about the fact that she's been surgically augmented, quipping to the Guardian in 2011, "I may look fake, but I'm real where it counts." In 2014, Parton famously admitted to Dan Rather, "If I see something saggin', draggin' and baggin', I'm gone get it nipped, tucked and sucked!"
While some may see plastic surgery — particularly in order to amp up body parts in ways that cater directly to the traditional male gaze — as an unfortunate decision, there are those who see it as empowering. For a woman, owning up to surgery can just as easily be a way of facing society's pressures head-on and calling them out. As Emily Nussbaum of the New Yorker wrote regarding Joan Rivers' famous openness about plastic surgery, "[Y]ou've made the battle visible, instead of pretending there was no battle."
Now with her body out of the way, let's get to her fashion. Dolly loves to sparkle. She loves a good jumpsuit. Like many women, she loves to wear things she thinks she will look good in. And because Dolly is Dolly, those things include glittery onesies, animal print, tight dresses, lots and lots of fringe and sky-high wigs.
As Parton told Oprah in 1992, "I'm like the girl next door, if you happen to live next door to an amusement park."
Parton's chosen to dress in such a way that she's soaked in what's usually seen as attractive to men — nipped in waists, sparkles, figure-framing dresses, va-va-voom hair — but each factor turned up several notches above the norm. In doing so, she's ultimately taken ownership of each stereotypical look, proving that you don't need to ditch glitter or dresses to command respect as a woman; androgyny is not required of all feminists. 
At the level that Parton wears sequins and corsets, it's not to appeal to men — it's a proud, unapologetic costume. Coming from a time when the ideal woman was likely the quiet, demure one, Parton's clothes were loud. They did, and still do, take up space. They don't apologize for distracting or getting in the way. There is power in that; just think about Liberace or Elvis.
But really, the best reminder that Parton's clothes are just for her is that she hasn't given them up. From way back in the 1960s until now, she's stuck with the glitter, the jackets, the hair and owned it to the nth degree. According to one of her many biographies, Smart Blonde, Parton once said, "I could be very stylish if I chose to be, but I would never stoop so low as to be fashionable." 
That happy, no-fucks-given disregard for trends or public approval — combined with an undying commitment to clothing of costume proportions — is clearly echoed by our "feminist fashion icons" today. Who? Think Beyoncé, Lady Gaga, Miley Cyrus, Katy Perry. Think Nicki Minaj when she first broke onto the scene, pre-Pink Friday — Minaj was seen as an outlandish, over-the-top character like Parton. 
Also like Parton, Minaj has capitalized on styles that embrace, rather than flout, male gaze-happy beauty standards like hourglass curves or sexy swaths of uncovered skin. Minaj, of course, has not only made them hers, but made us see past the clothing to a larger-than-life persona.
"Basically, my approach is do whatever the heck you want," Minaj told Essence in 2010. 
So does Dolly. Being a feminist fashion icon doesn't have to mean rejecting all feminine norms and sex appeal. It can mean embracing them in a way that recognizes their power, puts you in control and takes up space. Clothing doesn't have to be besides the point; it can be part of the bigger picture, defined however you so choose. 
After all, Parton has let the clothes become a massive part of her persona without them being everything: She's all about sex positivity and charity work (her Imagination Library has donated more than 40 million books for kids) and, oh yeah, her music. Her empire is currently worth a reported $450 million. 
"The whole purpose of the image," Parton once said, according to one of her many biographies, "was a gimmick to catch people's attention and then to let them know there was a person underneath it that did sing, and write songs and was very serious about her music."
But really, the clothing has become more than a mere gimmick. The image is a part of Parton, an admirably unapologetic women who owns her own look — and its possible connotations — and helps us see it in a different way.