Tina Fey as Sarah Palin Endorses Donald Trump on 'SNL'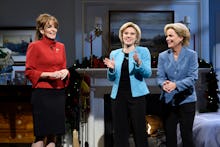 NBC/Getty Images
Comedian Tina Fey brought her Sarah Palin impression back to Saturday Night Live to mock the former Alaska governor Saturday night. "I wanted to take a break from my full-time career of writing things on Facebook to fly down here and lend my support to the next United States president, Donald J. Trump," Fey said as she opened the sketch. 
The SNL parody poked fun at Palin's recent endorsement of 2016 presidential candidate. Not to be outdone, comedian Darrell Hammond brought his best Trump impression to SNL, as he offered commentary during Palin's speech. 
"Hey America, isn't she great. Just the total package: smart, legs, yelling, everything," Hammond's Trump said. "I haven't seen a woman this impressive since Jeb Bush." 
"I'm here because we Americans are struggling. So many of us have lost our jobs at the factory, or our reality shows about Alaska," Fey's Palin quipped. "We've seen our own children targeted by the police for no reason other than they committed some crime."
During the speech, Fey's Palin also makes mention to the Islamic State. "He can kick ISIS' ass because he commands fire!" Fey's Palin stated. "I hope no one's allergic to nuts, cuz we've got a big one here," Hammond's Trump said in an aside. "She's two Corinthians short of a Bible."
Fey's impression of the 2008 vice presidential candidate ended with Palin explaining the real reason she was endorsing Trump. "Guess what, America? I don't really think this guy should be president," Fey-as-Palin proclaimed. "I'm just here 'cause he promised me a spot in his cabinet. And I belong in a cabinet 'cause I'm full of spice and I got a great rack!" 
In December, Fey played Palin on Saturday Night Live with comedian Amy Poehler for the sketch, "A Hillary Christmas."