Zayn Malik to Release 'Pillowtalk' — First Single Since Leaving One Direction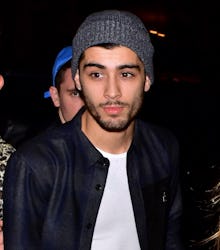 James Devaney/Getty Images
Zayn Malik, who departed the boy band One Direction in March, announced his first official single would be dropping within the week. The British vocalist released a shirtless photo on Twitter early Sunday morning with the words "Zayn" and "Pillow Talk" sprawled across the black and white image. January 29, 2016, Friday's date, is also included in the photo. 
Within just nine hours of uploading the image, Malik's tweet had received over 130,000 retweets and 170,000 likes, showing the power of internet stardom.
Though Malik has been the face of a number of magazine spreads and covers over the course of 2015, the former boy band member has been rather silent about his forthcoming musical projects. Fuse reported his first solo album will come in the early spring of 2016, and Malik told the U.K.'s Sunday Times published Sunday his forthcoming music would "let people know what's really going on."
Malik, often known for his exposing selfies across social media, floored fans on Sunday who have been eagerly anticipating the musician's upcoming album. 
"First single and I'm freaking out," wrote Twitter user Dayana on Sunday afternoon after hearing the news. "I don't know what to do when the album comes out I think I'm gonna die seriously." 
Other fans who don't yet know what Malik's music will even sound like were freaking out just as hard as Dayana on Twitter:
Apparently, the overall sentiment surrounding Malik's upcoming release is it will kill most of his fans. "I appreciate that Zayn is giving us a few days to prepare ourself," Common Fan Girl wrote on Twitter Sunday morning. "But it means nothing I'm still going to die."
Malik seems to be planning a major comeback into the spotlight, expected to appear on the Graham Norton Show Friday prior to his single release for "Pillow Talk."