Slamdance Film Festival 2016: Latest Buzz and Biggest Movies on Opening Weekend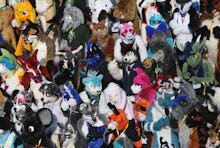 Adam Berry/Getty Images
The Sundance Film Festival may be occupying much of the film industry's attention — it's hard to ignore Harry Potter alum Daniel Radcliffe's ire-inspiring turn as a flatulent corpse in Swiss Army Man — but a few films at Park City, Utah's Sundance alternative, Slamdance, are picking up steam. Happening Jan. 23 through 28, Slamdance is a sort of Sundance for anarchists started by "a group of cheerful, subversive filmmakers" in 1995, according to the website, who wanted to spotlight emerging talents in the world of indie cinema.
"Slamdance lives and bleeds by its mantra By Filmmakers For Filmmakers," the website reads. "Slamdance adamantly supports self-governance amongst independents, and exists to deliver what filmmakers go to festivals for – a chance to show their work and a platform to launch their careers."
The alternative festival has birthed such films as Paranormal Activity (2007), Napoleon Dynamite (which debuted at Slamdance as a short film before taking Sundance by storm in 2004), and helped launch the careers of Batman-screenwriter Christopher Nolan and Monster's Ball director Marc Forster. Here are five Slamdance films that might just generate similar buzz for the filmmakers and actors who made them.
Fursonas
It's about damn time someone turned their lens on the Furry Fandom community. For the uninitiated, Furries are humans who dress up as cartoon animals in full-body, fur-covered costumes. Director Dominic Rodriguez investigates the curious counter-culture in his Slamdance debut, Fursonas, which — as Deadline reported — was acquired by Gravitas Ventures following its Friday screening. It should be available on Video on Demand by Summer 2016.
Let's Be Evil
This science fiction story takes viewers inside a futuristic, underground school of sorts, where a group of too-smart-for-their-own-good children test-drives "augmented reality glasses" as part of a program for gifted learners. The kids live under the watchful eye of three adult supervisors, who must maintain order when their charges go off the rails. Let's Be Evil is the work of Martin Owen, whom Slamdance co-founder, Peter Baxter, compared to "a young Christopher Nolan," according to Variety.
MAD
"If you like them dark and nasty," Michael Dunaway wrote for Paste, "this is the film for you." Mad focuses on a woman in the wake of a nervous breakdown, whose daughters are over dealing with their mother's mental distress and are more interested in sparring with one another. Its dark humor and standout performance from Jennifer Lafleur (who plays Connie, one of the daughters) make Mad a movie to watch out for at Slamdance.
The Million Dollar Duck
A little-known fact about the U.S. government: It will give you one million dollars if you can paint a picture-perfect duck. Each year, its Federal Duck Stamp Contest names the next superstar of the wildlife art world, selecting the nation's next duck stamp from a submissions pool populated by talented and quirky applicants. The Million Dollar Duck "explores the eccentric nature of the contestants who enter each year for a chance at wildlife art stardom," the website says. It's an unusual documentary on a unique yet bizarre niche in government-supported arts effort.
Embers
Embers will close out Slamdance on Jan. 28, and tells the story of life after a global neurological epidemic wipes out the concept of memory. It's already proved a festival hit, having taken home awards at the New Orleans Film Festival and Austin's Other Worlds SciFi Film Festival in 2015. Debut director Claire Carré said her film addresses the interplay between personal identity and memory: "Stripped of the story we tell ourselves of who we have been, and without the ability to start a fresh personal narrative by forming new memories - just acting and reacting in the moment - who would each of us be?" The resulting investigation "is thoughtful and humane sci-fi at its most stirring," according to Ben Umstead of Twitch Film.