Amy Poehler and Rashida Jones Are Getting Their Own Shows on NBC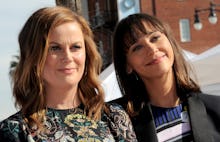 Albert L. Ortega/Getty Images
Fans of NBC's hit comedy television series Parks and Recreation may be delighted to hear that Amy Poehler and Rashida Jones will be executively producing two new comedies on the network. According to the Hollywood Reporter, the network has ordered comedy pilots from the two actresses who played Ann and Leslie on Parks and Recreation. 
Poehler's untitled comedy, formerly known as Dumb Prince, is about a man named Karl, "who after years of partying that earned him the 'black sheep' label, returns home to compete with his brother for the family throne." Poehler will be teaming up with The Mindy Project writer Charlie Grandy to produce the comedy; the duo teamed up previously on Saturday Night Live. 
Good Fortune, Jones' new comedy, revolves around "a hyper-structured young woman whose life is upended when she starts taking advice from a mysterious fortune teller," according to Variety. Jones will be teaming up with writers Craig Gerard and Matt Zinman to executively produce the comedy.
The two actresses aren't the only ones with a new project on the way. 
Parks and Recreation executive producer Mike Schur is working on a 13-episode comedy called A Good Place. Schur's latest project is about "a New Jersey woman who realizes that she's not actually a very good person and tries to change — if only she can figure out what positive changes look like," according to Variety. Veronica Mars star Kristen Bell will play the lead role in the new comedy.