3 Months Later, Here's What the Porn Industry Thinks of James Deen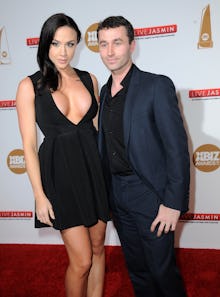 At the Adult Entertainment Expo on Jan. 22, James Deen was on a redemption tour. It wasn't a typical celebrity redemption tour, full of tearful apologies or public acts of charity. Instead, the boy next door of the porn world was at the Hard Rock Hotel in Las Vegas, hanging out at a bar and schmoozing with a group of reporters.
Deen was not at the Adult Entertainment Expo to field questions from the media about the numerous sexual assault allegations against him, opting not to make himself available for interviews at this year's awards show and the corresponding convention. He was there to attend the AVN Awards, essentially the Oscars of porn, where he was being honored with 33 nominations. (At the awards ceremony later that weekend, he took home two awards for best double penetration scene and best group sex scene.) 
On Friday, however, a publicist unconnected with Deen hinted to a group of reporters that the actor planned to make an appearance later that day, saying that if they headed to one of the hotel bars later that evening, they'd clearly see how much "support" Deen still has in the porn community.
Sure enough, later that evening Deen arrived at the bar in a nondescript button-down and jeans, introducing himself to whomever stayed in his orbit long enough. At one point, a Zach Galifianakis impersonator shuffled into the bar with a fake monkey on his shoulder and quickly caught sight of the porn star. "Hey, man," he said, sidling up to Deen and clearly trying to play it cool. "Can I get a picture?"
Although Deen looked visibly annoyed, he agreed to pose for a photo, standing next to the impersonator and posing Terry Richardson-style, thumbs up and grinning. He looked very little like a man who, just a few months before, had been accused of sexual assault by 10 different women.
Formerly the porn industry's golden boy, Deen has kept a relatively low profile since November, when his former partner and fellow adult performer, Stoya, publicly accused him of sexual assault on Twitter. "James Deen held me down and fucked me while I said no, stop, used my safeword," she wrote. "I just can't nod and smile when people bring him up anymore."
Stoya's account was followed by similar allegations from at least nine other women, several of whom said the man once called the "Ryan Gosling of porn" sexually assaulted them on set. (For his part, Deen has vehemently denied Stoya's allegations, calling them "egregious" as well as "false and defamatory.") 
The controversy prompted several prominent porn companies like Evil Angel and Kink to cut ties with Deen. Kink vowed to overhaul its performer guidelines, a promise it ultimately made good on, and the Adult Entertainment Expo revealed it would be hosting a panel on the importance of sexual consent, which would have been the first of its kind at the expo. 
Yet after Stoya announced on Twitter that she would not be attending the AVNs this year, event organizers quietly canceled the panel. "The panel was canceled because Stoya decided not to attend the AVN expo," Brian Gross, president of BSG Public Relations and one of the publicists who helped organize the AVN event, told Mic in an email. "There was no discussion of having someone take her place." 
The Deen allegations, as well as the cancellation of the consent panel, raised questions about the welfare of porn performers on set, an issue that came up again and again throughout the Adult Entertainment Expo. An equally popular topic of discussion: why Deen even showed up at the expo to begin with. 
Adult performer and director Tasha Reign (NSFW), who has shot with Deen many times and has stated she will not work with him again, said she found his presence unnerving. 
"He's walking around probably just because that's what his PR people told him to do, but I don't know any companies that are shooting him other than his own company," Reign told Mic. "I feel uncomfortable with it. Not because he's going to do something ... it's just that it's uncomfortable that he honestly hasn't been punished for those actions." 
Kayden Kross, a close friend, business partner and outspoken supporter of Stoya, agreed, calling Deen's attendance "unfortunate, but not surprising." 
"In his position, it's probably the best move: Act like nothing happened, and everyone else will believe it too," she told Mic. "In his situation, he's fighting for his life in this industry. If he were to go away and hide, that looks guilty." 
"He's fighting for his life in this industry. If he were to go away and hide, that looks guilty." 
Kross said Deen's presence at the convention reflects the state of affairs in an industry that is now being forced to address issues of sexual assault in production, even if it doesn't necessarily want to. 
"I'm not surprised at all the industry just sort of went, 'OK, let's keep walking on,'" Kross said, adding that people in the porn industry felt "threatened" after the allegations surfaced. "But I do think that even without any panels or any sort of further discussions or education ... now that this has happened, everyone's eyelids are sort of peeled back more. I think there's going to be a watchfulness that maybe the industry had gotten lazy about." 
That renewed attention to boundaries is something adult production companies needed before the Deen allegations surfaced, according to Jessica Drake, a longtime performer and sex educator, as well as the creator of the adult sex education manual Jessica Drake's Guide to Wicked Sex. 
Drake told Mic that before the Deen controversy, discussions of performers' "do's" and "don'ts" used to be much more casual — "It would just go like, 'Hey, excited to work with you, any do's or don't's?' 'I don't like rough sex, I don't like fingers in my pussy, I don't like anal, I don't like kissing. What about for you?'" Yet in the past few months, it's becoming increasingly clear, for both the industry and the public at large, that these conversations need to become protocol. 
"One of the things that has to come out of this is that we have to regress as an industry just a bit, to the time where you would have that meeting before a scene and discuss everything bit by bit," Drake told Mic. "When it was going on with me, it wasn't even a 'consent meeting' — it wasn't that technical or so formal. I think we have to make it so formal because it's so necessary now — it's not happening." 
In order to incorporate these changes into the production process, however, people need to see the on-set consent issue as being about more than just Deen and his accusers. "If we're hearing that there is a lack of boundary negotiating or there are nonconsensual things going on in porn, that's a huge issue," Drake said. "Even though [Deen] is the focal point for it, it seems that could be a much bigger problem."
That said, reinventing the conversation about sexual consent is tricky, particularly in porn, which operates under a completely different set of rules than the mainstream world. As Drake put it, consent is different on set than it is in "real life," whether because of the studio environment or because of the dynamic between individual performers. Every performer has her or his own boundaries, and those boundaries can change from shoot to shoot. In such complex circumstances, it's understandable how consent violations could occur. 
"It's possible those women [Deen's accusers] did the same thing I did, in reflecting on every single thing they had done or seen on a set, and decided that some things weren't OK with them," Drake said. "Or they decided maybe something was coercion, even if they didn't recognize it or do anything about it at the time." 
Nearly all of the performers Mic spoke with at AVN agreed that it's often difficult to determine whether a performer consents to all the acts they perform on set, especially given that just by showing up for a shoot, you've technically consented. Sex is the job, but the job can include many different types of sex, and you might not be comfortable with all of them. 
According to performer Ryan Driller, a large part of the work involves not only negotiating what your scene partner is and isn't comfortable with, but also reading their body language and learning to communicate nonverbally. Driller, who told Mic that he is still on friendly terms with Deen, said that the controversy has forced him and other male performers to become increasingly cognizant of their co-stars' boundaries. 
"I think a lot of us now are terrified," Driller told Mic. "The pressure is definitely there, because now we want to make sure that all of our bases are covered. It's scary to think, how is it going to escalate? Or, is this going to be really good for redefining the parameters, and saying, 'What is rape?' ... I'm hoping that people will keep the discussion going. I think it's going to help reground everybody."
Drake also noted the discussion isn't just limited to the industry; it's also affecting the way viewers think about the porn they watch. "I've noticed a difference in how fans are behaving since the Deen allegations," Drake said. "You have guys who are really into forced degrading, rougher sex and things that are more taboo, but then you also have the fans that are really concerned with ethical porn. 
"I have gotten concerned fans saying, 'I've seen girls crying and being thrown around. Is that consensual? Should we be watching that?'" 
BBW performer Kelly Shibari agrees that while the allegations against Deen might highlight real problems in the porn world, the conversation about consent is "not just a porn issue."
"It's a conversation about sex as collateral," she said. "It's about commodifying sex as a bargaining chip. [Porn performers] get stigmatized because we show that in a way that is blatant. But it happens all the time. ... It's hard to persecute our industry when it's so global, for so many other things." 
But Shibari, who is close friends with Deen, also recognized her own bias in evaluating the situation. "It's hard for me to have that conversation about James and Stoya, because James is like my brother," she said. "I like him enough to have worked with him, and I will work with him again." 
"I like him enough to have worked with him, and I will work with him again." 
And that seems to be the biggest issue within the industry when it comes to talking about Deen. The adult film world is small, and performers literally get to know one another intimately; many are close friends. And even though a number of production companies have cut ties with Deen, he still has many supporters.
Performer Casey Calvert, who penned an essay in defense of Deen, told Mic she believes that Deen's accusers, as well as any other performers who might have felt like their boundaries were violated on set, should have contacted the Adult Performer Advocacy Committee if they felt uncomfortable with another performer's behavior. (The committee, which was formerly chaired by Deen, is the closest thing porn performers have to a union.)
"Had I even felt violated by him, I would've felt comfortable going to [APAC]," Calvert told Mic. "I think they worked really hard to try to create that image [of safety], and I think it's really unfortunate that that might not have gotten conveyed. I think they could've gone to somebody else."
Even performers like Reign, who have cut ties with Deen, said their personal feelings about the issue were complicated. 
Reign, who identifies strongly as a feminist, told Mic her decision to put Deen on her "no" list was clear, but not simple. "When I found out about the news ... I had to say, 'Sorry, I can't send out the message to my fans or to other females that his behavior is something I condone. He will not be my male talent,'" Reign said. 
But, she added, "if I saw James right now, I would say hi to him and give him a hug, because I know him on a human level and not on this weird celebrity performer level." 
And that seems to be exactly the message Deen is trying to convey lately, whether on social media (where he tweets about tacos and why people should floss more) or in his interactions with other performers and attendees at AVN. At the hotel bar, he was remarkably jovial and charismatic, joking about Snapchat and lamenting the fact that he'd spent 10 days total in Las Vegas ("too long for anyone to stay in Vegas"). No one dared ask him whether he had ignored Stoya's safe word and held her down and fucked her, or if he had raped or beaten multiple women. When it seemed as if someone might come close to crossing an unspoken line, a handler came by to make sure no one made Deen uncomfortable.
Few people know for sure whether or not Deen is truly guilty, and it's unclear whether his career will suffer — or whether the porn industry will truly take a long, sobering look at its own on-set protocols — in the long term. What is clear, however, is that in an industry that pushes society's limits while also struggling to find its own, James Deen knows he can still feel comfortable showing up for the party, because he knows where he is and is not safe. 
Even if those spaces aren't clearly outlined, black or white, he seems to understand, perhaps better than anyone, that he's walking around in a gray area where the rules don't necessarily apply, where he can be publicly accused of sexual abuse by 10 women and still win awards from his community. And for the time being, it looks like that gray area is where he's going to stay. 
Update: Jan. 27, 2016, 4:28 p.m.:
After returning from the AVN Awards, Deen issued statements on Twitter and on his website (NSFW) thanking his friends, fans and colleagues for their support at this year's convention. 
In a post on his blog (NSFW), the embattled performer issued a longer follow-up statement: 
I don't have a job because of me. I have a job because of long long LONG list of other people. The companies that continue to shoot me, the directors that insist that I am in their movies, the women who want to have sex with me, the people who watch the movies I'm in and continue to support me. ... The fact that at this AVN so many friends and fans came up to me and showed support means more than anything. Hell, the fact that I was even at AVN to begin with mean so much to me.