Will Schools Be Closed in NYC Tomorrow? Not a Chance, According to Dept. of Education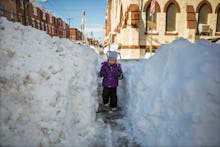 Jessica Kourkounis/Getty Images
Sorry kids, but you won't be getting a snow day. According to the New York City Department of Education, all schools will operate as scheduled on Monday, Jan. 25. Regular school programming, as well as after-schools activities will occur as normal. The Department of Education encourages its students and staff to plan extra time around traveling to and from school, and to use mass transit. School buses will operate as normal.
Any field trips using school buses scheduled for Monday will be cancelled. The New York Sanitation Department has plowed all streets at least once, and will focus on secondary and side streets Sunday, the Mayor Bill de Blasio's office said in a statement.
The statement further said the New York Sanitation Department has more than 2,300 pieces of snow clearing equipment out to plow the streets and sanitation employees work two 12-hour shifts.
After the travel ban placed on the city by New York state Governor Andrew Cuomo, most mass transit services operated by the Metropolitan Transportation Authority have resumed, officials said. 
Those looking to make money for their shoveling efforts can register to be a paid New York Department of Sanitation Emergency Snow Laborer to help clear snow after blizzards.