Three Orange County Men's Central Jail Inmates Escaped — Here's What We Know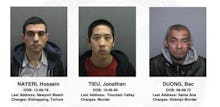 Uncredited/AP
Three Orange County Men's Central Jail inmates escaped on Friday in a "very sophisticated operation," which authorities detailed on Sunday as the manhunt continued for the dangerous felons in the heart of Santa Ana. 
Los Angeles' Sheriff Sandra Hutchens described Jonathan Tieu, Hossein Nayeri and Bac Duong's intricate escape in a news conference Sunday morning, which involved suspending themselves from rooftops with bedding from their cells, breaking through half-inch steel and exiting the jail through the facility's plumbing system.
The Los Angeles Times reported Sunday the three inmates, all arrested on violent charges, managed to avoid at least three security checkpoints. The FBI is now offering a reward of $20,000 for any information leading to the arrest of the fugitives and U.S. marshal's are offering up $10,000 for knowledge of the whereabouts of each of the suspects — a $30,000 total reward.
Here's what we know about each of the fugitives, via the LA Times:
Hossein Nayeri
37 years old
Charged with kidnapping, torture, burglary, aggravated mayhem.
Held without bond.
Nayeri's case involves three other suspects, all of whom kidnapped the owner of a weed dispensary shop in California in 2012. The group, including Nayeri, took part in severing the man's penis after driving him to a location in the desert.
Jonathan Tieu
20 years old
Charged with murder, attempted murder, shooting an inhabited dwelling
Held on $1-million bond as of October 2013
Suspicions of gang relations
Bac Duong
43 years old
Charged with a series of violent offenses, including attempted murder, assault with a deadly weapon, shooting at an inhabited dwelling, being an ex-felon in possession of a firearm and other charges," according to the LA Times.
"I've been in law enforcement for 37 years, always working for sheriff's departments that manage jails. And escapes do occur from time to time," Hutchens said in a press conference Sunday. "We try and limit that. We learn from the mistakes. I can tell you that this is a very sophisticated-looking operation. People in jail have a lot of time to sit around and think about ways to defeat our systems."
"Presume that they are armed," the sheriff continued after speaking on the prisoners' whereabouts, telling residents "do not approach them."