Jeb Bush Praises Michigan Gov. Rick Snyder's Handling of Flint Water Crisis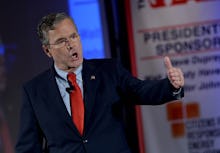 Presidential candidate and former Florida Gov. Jeb Bush praised embattled fellow Republican and Michigan Gov. Rick Snyder for his response to a crisis unfolding in the city of Flint, where directives ordered by a Snyder-appointed emergency manager resulted in municipal water supplies turning toxic in 2014 and staying that way until now.
In an interview Sunday on CNN's State of the Union, Bush said "I admire Rick Snyder for stepping up right now. He's going to the challenge, and he's fired people and accepted responsibility to fix this," the Hill reported.
Bush clarified he was critical of the decisions that led to the crisis, but he respected Snyder for accepting responsibility for events under his control.
"No, what I'm saying though, instead of saying, 'The dog ate my homework' and, 'It's someone else's fault,' once it became clear he's taken the lead now, and that's exactly what I think leaders have to do," Bush said.
During the rest of the interview, Bush blamed too much government for the crisis, saying it had led to a situation in which no one had taken responsibility for the unsafe water.
In this instance, praising Snyder may prove to be a risky move for Bush, who has been having a tough time in the Republican primary as frontrunner Donald Trump continues a monthslong surge in the polls.
The controversy surrounding Snyder is still unfolding, and it remains unclear whether he will emerge with a tainted reputation.
Snyder's administration has been widely panned after it became clear state officials, including senior aides from his office, dismissed residents' concerns that water being pumped into their communities from the infamously polluted Flint River was not suitable for human consumption.
It also turns out the water was improperly treated and lacked cheap corrosion controls that could have prevented lead levels in the water from skyrocketing.
In some cases, it appears Michigan health officials suppressed reports warning about the toxicity.
Snyder issued a formal apology, saying, "I'm sorry, and I will fix it," during a State of the State address last week. "Government failed you," he said. "... I'm sorry most of all that I let you down. You deserve better. You deserve accountability. You deserve to know that the buck stops here with me."
Snyder declared a state of emergency Jan. 5, and on Jan. 12 he mobilized the National Guard to distribute bottled water and filters. He also committed $28 million to resolving the crisis, in addition to $5 million in emergency funds and $80 million in loans provided by President Barack Obama's administration.
While Snyder has taken the lion's share of the blame so far, like Bush he's also tried to redirect criticism toward "a huge bureaucratic problem ... part of the problem with culture in government" in other statements, reports the Detroit News.
The Washington Post's Janell Ross, among others, wrote Snyder's appointment of an emergency manager to cut costs in Flint is directly responsible for the crisis. Flint residents are continuing to receive some of the nation's highest water bills for the poisoned water.