Super Bowl 50 Halftime Show: Here's Everything We Know About Coldplay in Santa Clara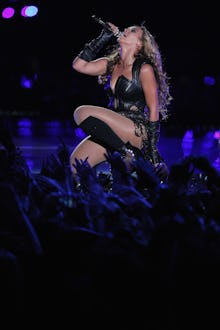 Al Pereira/Getty Images
Seven-time Grammy Award-winning rock band Coldplay will headline Super Bowl 50 on Feb. 7 at Levi's Stadium in Santa Clara, California, the NFL announced in December. Coldplay, which has sold more than 80 million records, will be joined by Beyoncé.
Last year's Super Bowl was the most watched show in U.S. history, so it's reasonable to understand why Coldplay lead man Chris Martin would be nervous. "Now that you mention it, now I'm really, really nervous," Martin said in the video announcement. 
With the release of Coldplay's seventh full-length studio album A Head Full of Dreams, Beyoncé was a fit for the collaborative Super Bowl effort, as she is featured on the album's single "Hymn for the Weekend." According to NJ Advance Media, Martin is good friends with Beyoncé and her husband, Jay Z, making the collaboration an effort between friends.
This will be Beyoncé's second performance at the Super Bowl; she first performed in 2013, when she brought Michelle Williams and Kelly Rowland for a Destiny's Child reunion.
This will be Coldplay's first performance at the Super Bowl. According to Martin, the halftime show will take on the NFL's On the Fifty campaign, which is a celebration of the NFL's 50th Super Bowl. 
"In an ideal world, we'd like to somehow honor the past, celebrate the present and look to the future," he told Entertainment Tonight. "It's the greatest moment of our band's life. We're going to give it everything we have."
Coldplay, the first rock band to headline the Super Bowl since the Who in 2010, are planning a North American tour after their Super Bowl 50 performance.