Banksy 'Les Misérables' Art About Calais Refugee Camp Appears on French Embassy in London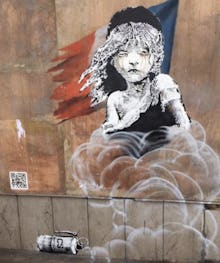 Mic/Twitter
Mysterious graffiti artist and activist Banksy is continuing his criticisms of the U.K.'s handling of the refugee crisis, with his latest depiction appearing over the weekend on the French Embassy in London. The artwork shows a crying young girl from Les Misérables, with a bottle of CS gas opened and funneling smoke toward her, in an apparent reference to the police's alleged usage of tear gas in the Calais refugee camp. 
The work has made its way online, and was meant to go viral. For the first time ever, Banksy included a QR code with his artwork, which includes an online component, or element, to the project. Users can scan the image of the QR code to the bottom left of the graffiti to find a video from the Calais camp from Jan. 5, the Guardian reported. 
"It's not in our interest to use tear gas unless it's absolutely necessary to restore public order, and it is never used in the camp itself," police spokesperson Steve Barbet told the Guardian. The video Banksy links to with his QR code shows tear gas ripping through the Calais camp, as well as concussion grenades and rubber bullets. 
The graphic, seven-minute video shows a region of the camp covered in smoke at one point, as men rush toward the diffusing CS tanks to kick them away from homes and other groups of people. The U.K.'s leader of the Labour Party, Jeremy Corbyn, described the camp's conditions as "shameful" on Saturday after visiting the camp to better understand the refugee crisis. 
The latest image, which residents in London first noticed after waking up Sunday morning, follows a string of recent work Banksy has used to focus on the refugee crisis, and the international response — or lack thereof: